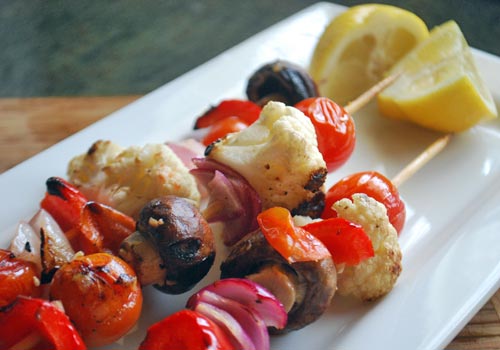 I spent 3 wonderful days with my husband and my boys just hanging out at home in our backyard. You know that sprinkler I bought? We finally got it hooked up, but unfortunately it had no water pressure and was just a sad excuse for a water activity. So we ended up just using the garden hose and misted the boys as they ran around in the grass screaming. It was awesome.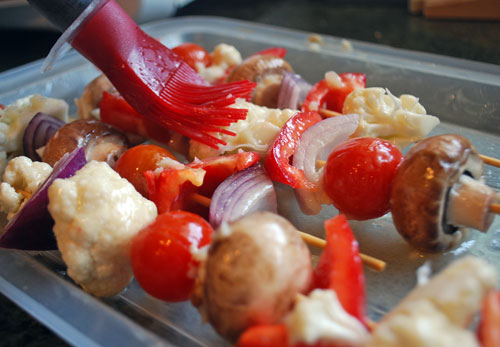 Now that we have a backyard, we have room for a grill. My husband did some research and picked out a Weber Q 120. It's compact and portable and has enough cooking space to grill up food for 4. Most importantly, the food is delicious!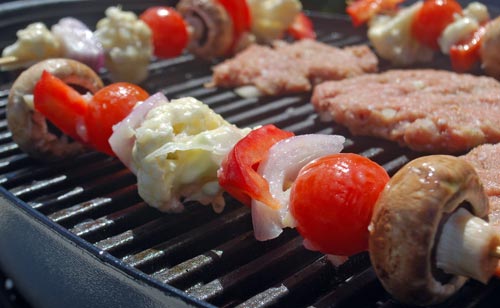 We plan on grilling every weekend so I thought I would start posting about what we are making. These kabobs were so easy and delicious. Fresh vegetables (we used button mushrooms, red onion, red pepper, cauliflower florets, cherry tomatoes), rinsed and skewered. Brush some lemony garlic butter on them, grill, enjoy. Super easy and healthy side dish to burgers and dogs and my kids loved them too.
Tip – if using wooden skewers, soak in water for 30 minutes prior to grilling to avoid burning.
Recipe: Veggie Kabobs
Ingredients
4 TBSP butter
3 cloves garlic, minced
Juice from 1/2 a lemon
fresh seasonal veggies, washed and skewered
Instructions
Put butter and garlic into a small microwavable dish.
Microwave for 30 seconds, stir. Heat for 10 second intervals until melted. This method (a tip from my sister in law) will let the butter really infuse with the garlic flavor and soften the garlic a bit.
Squeeze the juice from half a lemon into the melted butter. Brush on to your kabobs.
Grill for about 20-30 minutes over medium high heat.
Preparation time: 5 minute(s)
Cooking time: 25 minute(s)
Number of servings (yield): 6