This one goes out to keepz, a very kind visitor who left some suggestions for my next bread art experiment. I went with hearts, but to keep it simple I did only one. To me it looks like the bottom half of a strawberry so next time I'm throwing some green on top.

It was pretty simple, roll two red dough rolls, lay one on top of the other, then use a rolling pin to flatten the side. Assemble with some white dough supports and wrap it up to help keep everything from moving around too much. Here are the steps: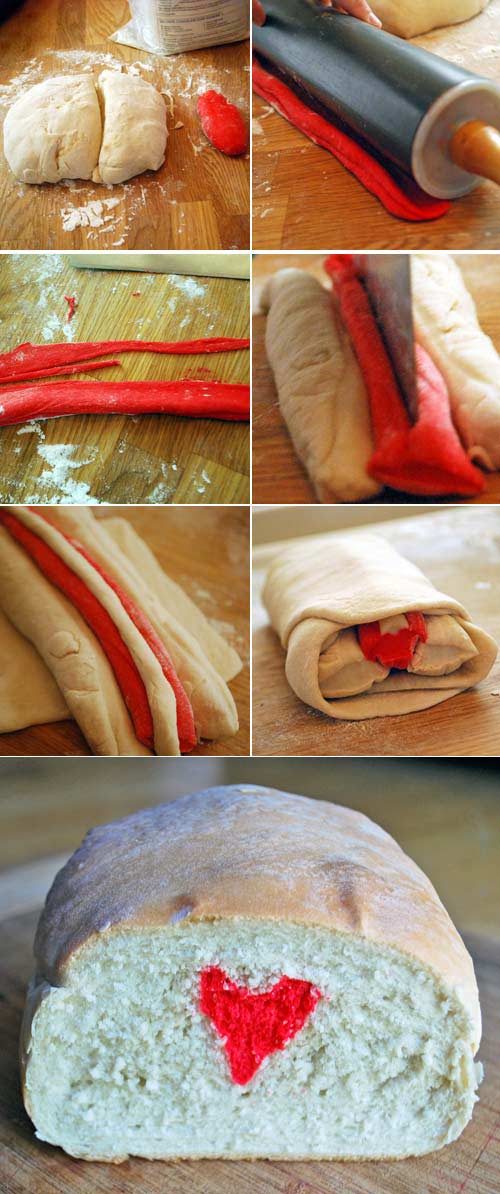 Keepz, thanks for taking the time to leave a suggestion, I love getting them!
Recipe: I Heart Bread
Ingredients
1 cup warm water
2 tablespoons vegetable oil
2-1/4 teaspoons active dry yeast (1 packet)
1/3 cup white sugar
3/4 teaspoon salt
3 cups all-purpose flour
red food coloring
Instructions
Stir the warm water and yeast in the bread machine, wait 5 minutes for it to foam. Then add remaining ingredients (except the coloring). Set on dough setting. (If you don't have a bread machine, make this like any other bread.. knead the dough, let rise in warm area.)
Separate into 2 dough balls, one being much smaller. Use an electric mixer with the paddle attachment to knead the red into the small dough.
Shape your bread! Use the photos above to help. You will need a rolling pin, and pizza cutter or chopper if you have it. Place into a greased 9×5″ bread loaf pan. Cover with a towel. Let it rise for 30 minutes.
Bake at 350 for 30 minutes. Slice and Enjoy. Store in a ziploc bag to retain freshness or it will get hard over night.
Preparation time: 1 hour(s) 40 minute(s)
Cooking time: 30 minute(s)
Number of servings (yield): 12