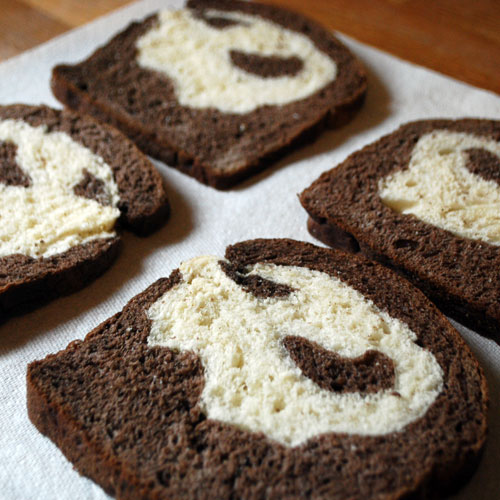 I had so much fun making Lightning McQueen Race Car bread, that I couldn't resist giving this bread art technique another try. This spooky, ghostly, eerie bread was pretty simple to do, delicious, and would be great fun for Halloween!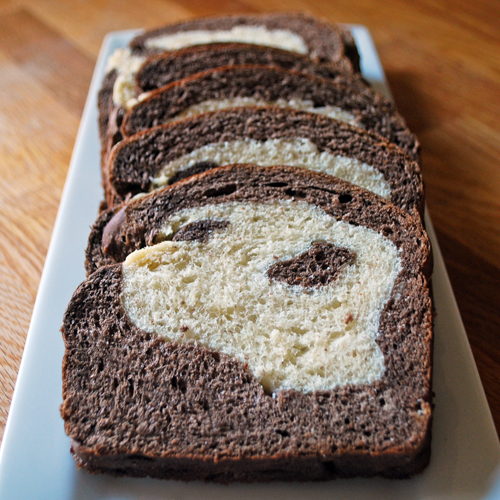 I used a different bread recipe this time around and found it to be much tastier. In my last attempt (the race car bread), the recipe may have worked slightly better in keeping the car shape, but this recipe was delicious, and in the end isn't that what its all about? It has a nice texture, light but still dense enough to slice easily for sandwiches and toast. This bread is slightly sweet but can still be used for hearty sandwiches.


I chose to make ghosts because I thought a ghost shape would be very forgiving if the bread did funny things while baking, and I think it was. Some pieces came out looking more like skulls than ghosts, but I think thats ok. They still seemed hauntingly Halloweenish which was what I was going for!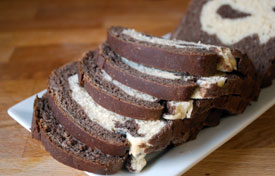 To see step by step instructions on how to make this bread and many other examples of bread art, check out my new eBook!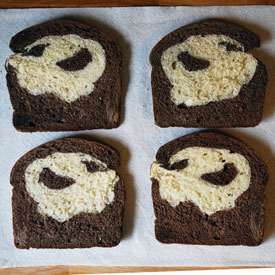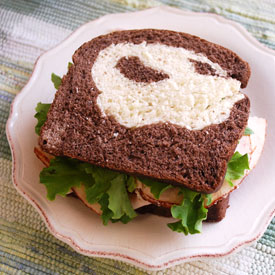 Recipe: Spooky Halloween Bread
Summary: adapted from Amish White Bread
Ingredients
1 cup warm water (110 degrees F/45 degrees C)
2 tablespoons vegetable oil
2-1/4 teaspoons active dry yeast
1/3 cup white sugar
3/4 teaspoon salt
3 cups bread flour
2 TBSP Dark, unsweetened, cocoa powder
Instructions
Stir the warm water and yeast in the bread machine, wait 5 minutes for it to foam. Then add remaining ingredients (except the cocoa powder). Set on dough setting. (If you don't have a breadmaker, follow steps given in the original recipe.)
Separate into 2 dough balls. Put one dough ball into your mixer with the paddle attachment. Add 2 TBSP cocoa powder, mix for about 5 minutes, adding more powder if necessary.
Shape your bread! Place into a greased 9×5″ bread loaf pan. Cover with a towel. Let it rise for 30 minutes.
Bake at 350 for 30 minutes. Enjoy.
Preparation time: 1 hour(s) 40 minute(s)
Cooking time: 30 minute(s)
Number of servings (yield): 12