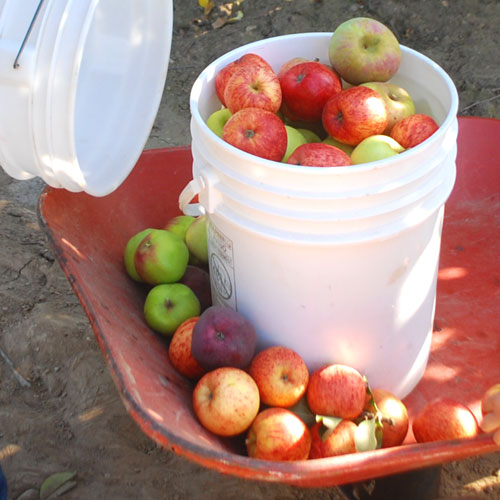 As a way of welcoming in the fall and saying farewell to summer, our family goes apple picking. It's so refreshing to be outdoors in an apple orchard, with beautiful views of the California hills, endless rows of colorful apples ripe for the picking. Wheeling the wagon around and filling up our bucket, eating apples straight from the tree. Its a complete recharge for mind, body, and spirit. So you can imagine how easy it is to over pick. We brought home 35 lbs of apples!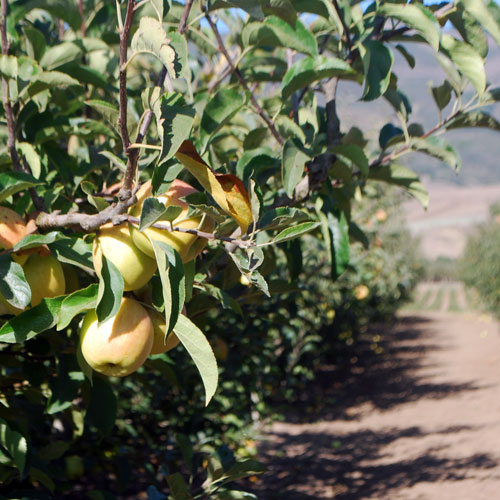 What to do with all these apples? Apple pie, apple cake, apple sauce, apple chips, apple juice, threw some in salad. Gave a bunch to friends and the little guy gave some to his teachers. This weekend will be… muffins? If you have any suggestions… please leave a comment!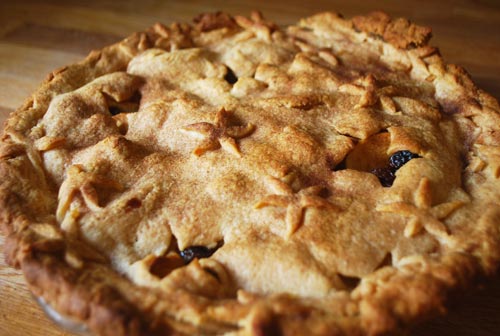 So this apple pie was a piece of cake to make, haha! I had leftover pie crust waiting for me in the freezer, so it was all about assembly. I use Roland Mesnier's All-American Pie Dough, its perfectly light and flaky and freezes well. I also pre-bake my apples so they are soft when the pie is done (Mesnier's tip to a perfect pie).
Check back soon for more apple dishes!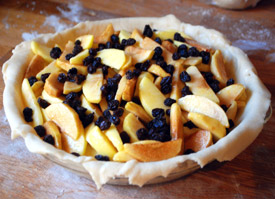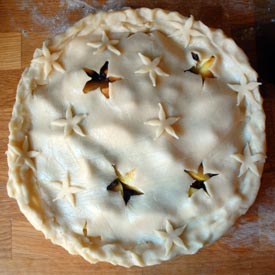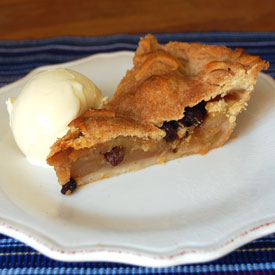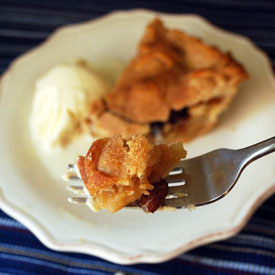 Recipe: Apple Pie
Summary: Adapted from Roland Mesnier's Dessert University
Ingredients
pie dough
8-10 apples, peeled, cored, sliced
1/4 chopped unsalted butter
1/4 cup sugar
handful of raisins
3 TBSP butter, melted
Cinnamon sugar
Instructions
Preheat oven to 400.
Bake apple pieces in a deep casserole dish with 1/4 cup chopped butter and sprinkled with sugar for 10 minutes, stirring half way. (Note – Use more or less sugar depending on the tartiness of your apples.)
Let cool.
Preheat oven to 375.
Prepare greased pie pan with the bottom layer of pie dough.
Fill with your pre-baked apples and the raisins.
Top with decorated pre-punched top layer of dough. (Note – roll out your dough between two pieces of plastic wrap to help transport it to the pie!).
Brush with melted butter. Sprinkle with cinnamon sugar.
Bake for about an hour, or until golden brown. (Note – use foil around the edges half way through baking to prevent burning.)
Preparation time: 20 minute(s)
Cooking time: 1 hour(s) 10 minute(s)
Number of servings (yield): 8