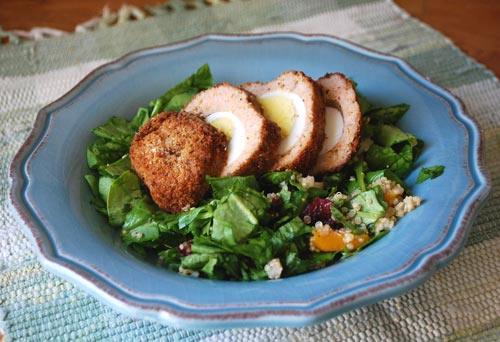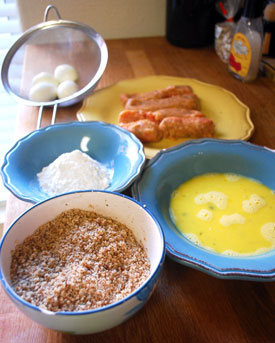 Several years ago, my husband travelled to London for business and when he came home, he had a proposition for me. While dangling in front of me some very decadent looking chocolates… he asked in exchange for me to make him some Scotch Eggs.
What the heck are scotch eggs? I asked.
Oh they are AMAZING! he said.
Oooooh, intriguing! I thought.
I dashed over to my laptop and began researching this strange sounding… thing. I found a few recipes, saw some photos. Hey, I could do this, and I did. It's easy, and kind of fun, and kind of delicious.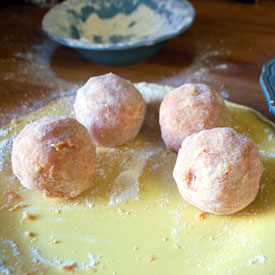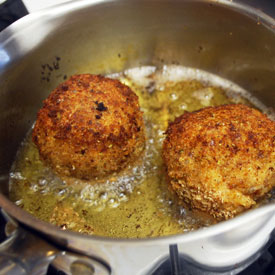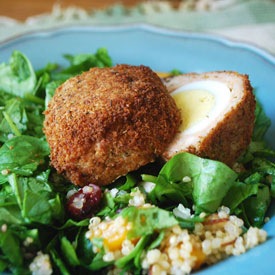 These eggs, hugged in sausage, sounded like a breakfast food to me, but no no no, warned my husband, its heartier than you think, they are definitely a dinner dish. He suggested serving them with some salad. So I made them, we ate them, and oh my… I love them too. I've been making them ever since. So, here are the instructions, try them, you won't be sorry.
Recipe: Scotch Eggs
Ingredients
4 hard boiled eggs
1/2 cup flour
1 egg beaten w/splash of water
seasoning of choice (I used herbs de provence)
1 1/2 lb of raw sausage (Chicken, Pork, Country, Italian anything works!), removed from the casing
1 cup breadcrumbs
vegetable oil for frying
Fresh Greens for serving
Instructions
Boil your eggs – place 4 eggs into a pot cover with water. Bring to a boil. Boil for 10 minutes.
Meanwhile, prepare your assembly line. 1 bowl of flour, 1 bowl with beaten egg, 1 bowl of breadcrumbs seasoned with your herb of choice (I make my own with whole wheat bread in a food processor), 1 plate with sausage.
When eggs have finished, run them under cold water so you can peel them.
Take an egg, roll in flour, take a handfull of sausage and start to mold it around the egg. You can feel it if you have too much or too little, pad with a little more flour to avoid stickiness. Now dip into beaten egg, then cover in breadcrumbs. Repeat for all.
Preheat oven to 350F.
Heat oil in a small pot. you only need a little, about 1/2 inch. The oil should be hot enough to brown fairly quickly… (they will still cook in oven). Brown the eggs in the oil by turning it with tongs ( I do batches of 2 at a time).
Bake in the oven on greased baking sheet for 15 minutes.
Serve over greens.
Preparation time: 25 minute(s)
Cooking time: 25 minute(s)
Number of servings (yield): 4