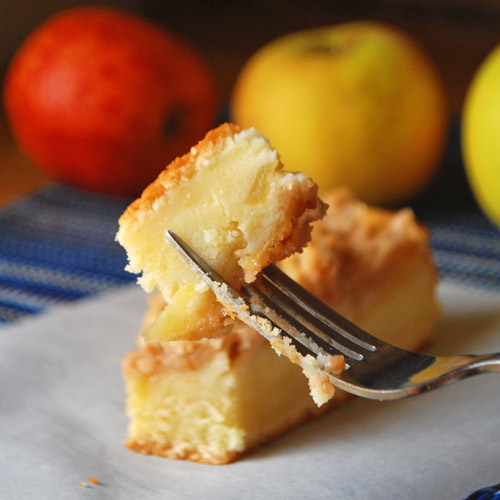 One bite of this and I'm 10 years old again sneaking into the kitchen to pick off a chunk of the crumb topping from this fresh baked coffee cake. Between me and my two siblings, and quite possibly my dad, the cake was in sad shape by the time the guests came and mom was ready to serve. Poor mom!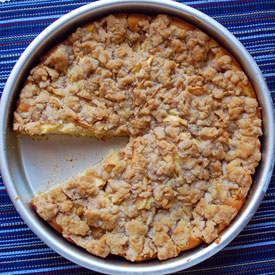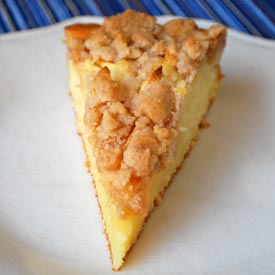 When my dad was young, he had a childhood friend whose family was from Germany. His friends' mom would bake this delightful German apple cake, an old family recipe. When my dad got married, he requested the recipe and passed it on to his new bride (my mom) and she has been making it ever since.
After having recently gone apple picking, I wanted apple recipes, so I finally got around to asking her for the recipe. It was easy to make and too easy to eat. I had it for breakfast and dessert, and basically picked at the crumb topping during the time between. The cake is moist and slices so nicely. And ooooooh those apples! I never realized how awesome that part was. Next time I'm going to use four apples. I hope you enjoy this as much as my family!
Recipe: Apple Kuchen
Summary: German Coffee Cake
Ingredients
2 1/4 cup flour
3/4 tsp baking powder
3/4 cup sugar
1/2 cup shortening
1 stick of butter or margarine (1/2 cup)
1 1/2 cup milk
2 well beaten eggs
3 to 4 apples peeled and sliced thinly.
Topping:
1/2 cup sugar
1/2 cup flour
1/2 stick of butter (1/4 cup)
1/2 tsp cinnamon
Instructions
Preheat oven to 350.
Using the paddle attachment in your mixer, mix the flour, baking powder, and sugar.
Cut in the shortening and butter.
Mix in the milk and eggs.
Pour into a greased 9″x12″ or 10″ round pan.
Make the topping in a small bowl, use your hands or a fork to mash the ingredients.
Top the cake dough with apples and crumb topping.
Bake 45-60 minutes (when a toothpick comes out clean after inserted).
Preparation time: 15 minute(s)
Cooking time: 1 hour(s)
Number of servings (yield): 8