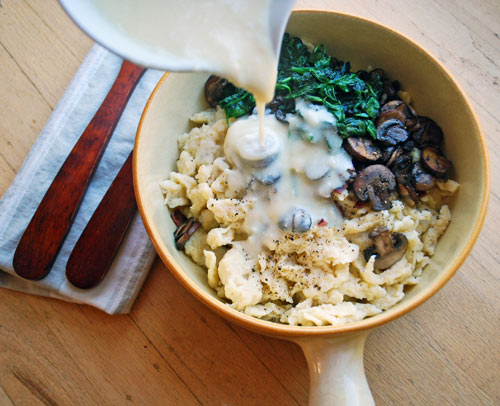 5 Years ago, my husband and I were fa-Fa-FA-FREEZING our bums off on the top of the Schilthorn mountain in Switzerland. It was quite possibly the coldest I had ever been, and I know cold… I grew up in Buffalo. We were a bit under dressed for the experience, and I remember the odd sensation of bending my frozen hair.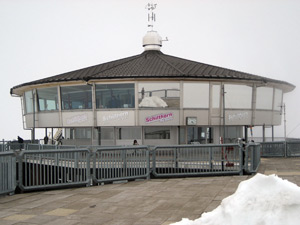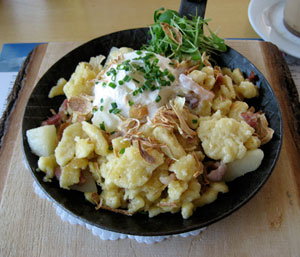 The view up there was utterly breathtaking, we mostly enjoyed it from our dining chairs while feasting on some amazing food and warming up inside the famous Piz Gloria restaurant. (This restaurant was the setting for the James Bond movie On Her Majesty's Secret Service.) The Piz Gloria slowly rotates so your view is constantly changing, it was so awesome.
Dining there, high up in the clouds is where I had my first taste of spaetzle, a type of egg noodle that is much like a dumpling. I had never heard of this dish before, but its popular in Europe and has been around since the early 1700's. You can get it prepackaged at the grocery stores over there, but its very simple to make right at home.
I was so in love with my meal I took a photo of it in hopes that I could try to make it myself one day. But, of course, I forgot. Until…
I was recently invited (along with 28 other bloggers) by Kitchen Play to be part of the 29 Ways to Leap into Jarlsberg Dip event. Each day in February, a different food blogger is posting a fabulous new way for you to enjoy this delicious cheese dip! How cool is that? So, being given day 23, I figured I had to be creative or else I would likely run the chance of duplicating another blogger.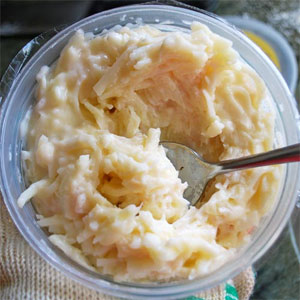 After reading about the history of Jarlsberg cheese, I learned that Norwegian cheese makers wanted to produce their own version of the popular Switzerland Emmenthaler cheese in the 1950's… several years later Jarlsberg cheese was born. That triggered my memory of Schilthorn and I began to browse through my old Switzerland photos and found that photo of spaetzle. Spaetzle, Jarlsberg cheese dip, I can make that work!
This is what the Jarlsberg cheese dip looks like, a chunky cheese dip, so I knew I would have to heat it up in a saucepan with some milk to make it a sauce for my spaetzle. This was the easiest part, it melts on low heat within minutes.
I did a lot of test batches… we had spaetzle for dinner 4 times in the last month! I'm finally happy to post this recipe for you. Its going to be a regular in this house because of the easy preparation with simple pantry ingredients, and the texture and taste is a hit with everyone, including my 3 year old (he calls it 'fancy mac-n-cheese').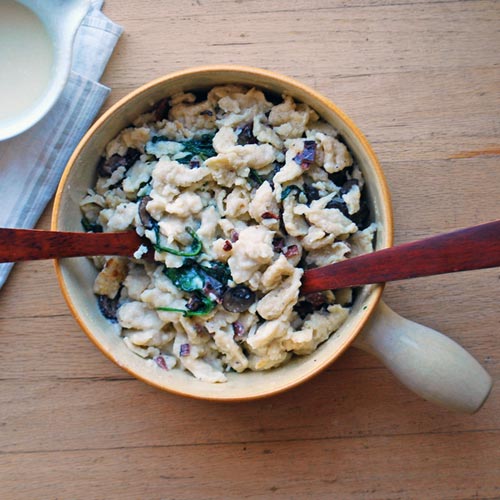 I decided to serve it up in my Swiss fondue pot, the pretty one that has been sadly collecting dust.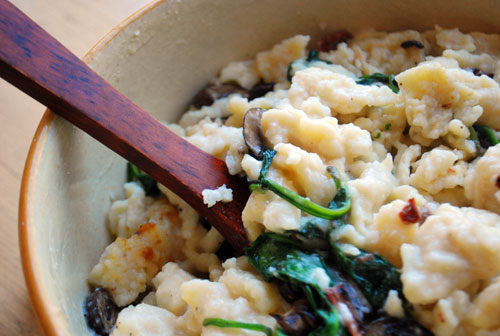 You can dress it up with whatever suits your fancy. I used spinach, bacon, and mushrooms and tossed it in the easy Jarlsberg cheese sauce.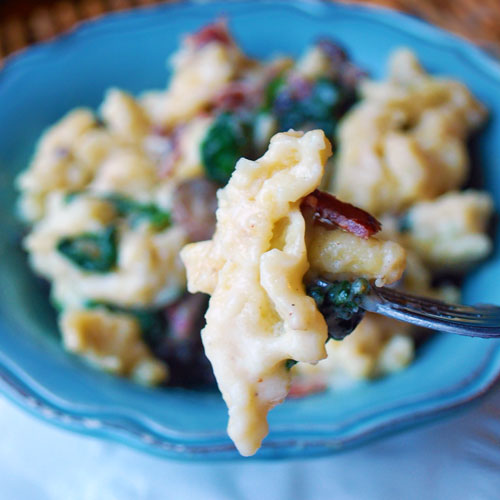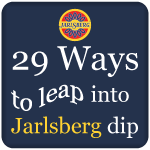 Now for the best part… a GIVEAWAY! Jarlsberg USA is giving away a tote stocked with some wonderful products including:
Jarlsberg Lite Cheese
Jarlsberg Cheese Dip
Snofrisk (Norwegian style cream cheese)
Crisp breads
Honey cremes
Honey vinegar
Recipe: Spaetzle with Jarlsberg Mornay Sauce
Ingredients
2 cups of flour
dash of nutmeg
2 eggs, whisked
3/4 cup milk
2 handfuls of fresh spinach
fresh sliced mushrooms
3 strips of bacon
Jarlsberg Cheese Dip
Milk
Instructions
Bring a large pot of salted water (half filled) to a boil.
In a mixing bowl, stir together the flour and nutmeg.
In a separate bowl, whisk together the eggs and milk. Pour the egg mixture into the flour mixture and stir to combine.
If the batter seems too dry (should be pancake like), just add more milk.
Making the spaetzle will require batches of boiling.. like dumplings. Prepare a large bowl filled with about a cup of ice cubes. (This will be where you place the boiled spaetlze to cool down.)
When water is boiling, drop the batter into the water using your fingers or a spoon in small amounts. Its a little messy, but you will get the hang of it quickly. Use a spoon to break it up a bit and unstick it from the bottom. When they start to float (a few minutes) let them boil for another minute or so. Then scoop them out with a slotted spoon. Place them into the ice bowl. Move onto the next batch. When finished, drain the spaetzle and set aside.
Additions: Cook up your bacon, saute up your mushrooms with some butter, and then add the spinach toward the end. Toss everything together with the spaetzle.
Mornay Sauce: In a small saucepan on medium low heat, add contents of cheese dip and a little milk to thin the sauce. Stir until melted.
Toss with spaetzle or serve on side.
Preparation time: 10 minute(s)
Cooking time: 15 minute(s)
Number of servings (yield): 4

Note: If you want to reheat the spaetzle noodles before tossing it with everything else, simply put them back in the saute pan with some butter to kind of lightly toast/crisp them up.
Disclosure: I received monetary compensation to pay for the Jarlsberg dip and supplies for my recipe, but the opinions are 100% my own!