We have a nice collection of Dr. Seuss books, the latest addition being The Sleep Book. My 3 year old was giving us some terrible tantrums when it came time for lights out.. so my genius husband ordered this from amazon. Let me tell you, this book is magical. My son is in bed, lights out, at 8pm every night this week. Why? Because he wants his biggel ball to plop into the cup of the Audio-o-Telly-o-Tally-o Count machine, you know, the one that counts how many people fall asleep each night. LOVE IT. Thank you Dr. Seuss!
Well, I felt it was time to make some more bread art, and since I am reading Dr. Seuss every day, naturally the first thing that came to mind was the red and white hat.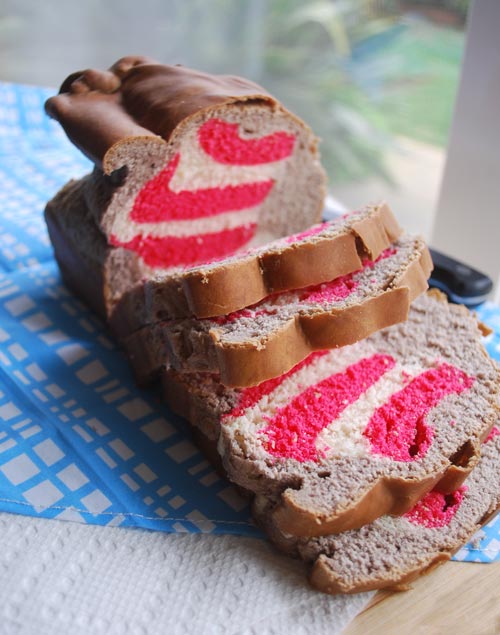 When this bread finished baking, the sun had already set, which makes for poor photography. Sooooo, we went ahead and helped ourselves and ate more than half the loaf. Nothing beats fresh bread. (To make sure it stays fresh and soft, seal it in a ziploc bag.) The next morning, I got out the camera and took photos of what I had left. Unfortunately, I think we ate the good looking half. These pieces seemed more distorted, probably due to the uneven cocoa dough laid on top of the hat.

Here is what our first glimpse of the hat shape looks like. My little guy LOVES it when I start slicing the pieces, laughs and starts gobbling away.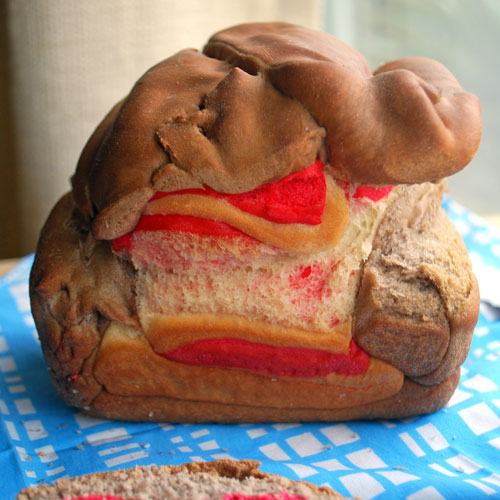 To see step by step instructions for this bread and many others, check out my complete collection of bread art, in my new eBook!
Recipe: The Cat's Hat Bread
Ingredients
1 cup warm water
2 tablespoons vegetable oil
2-1/4 teaspoons active dry yeast (1 packet)
1/3 cup white sugar
3/4 teaspoon salt
3 cups all-purpose flour
cocoa powder
red food coloring
Instructions
Stir the warm water and yeast in the bread machine, wait 5 minutes for it to foam. Then add remaining ingredients (except the cocoa powder and food coloring). Set on dough setting. (If you don't have a breadmaker, make this like any other bread.. knead the dough, let rise in warm area.)
Separate into 3 dough balls. Put one dough ball into your mixer with the dough hook attachment. Add a little red food coloring and mix… repeat until you the right color and dough is even. Wipe clean the mixer. Add the next dough ball to the mixer and add about 1 tsp cocoa powder, mix for about 5 minutes, adding more powder if necessary. You only want it dark enough so that you can clearly see the hat in the final product.
Shape your bread! Use a rolling pin, pizza cutter or chopper if you have it. Place into a greased 9×5″ bread loaf pan. Cover with a towel. Let it rise for 30 minutes.
Bake at 350 for 30 minutes. Slice and Enjoy. Store in a ziploc bag to retain freshness or it will get hard over night.
Preparation time: 1 hour(s) 40 minute(s)
Cooking time: 30 minute(s)
Number of servings (yield): 12