I am one proud mama, my 3 year old made this cake!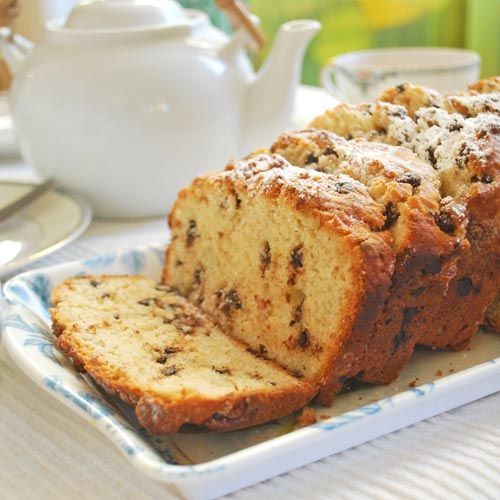 I am currently enjoying a new book, Bringing up Bébé by Pamela Druckerman. Its unlike other parenting books I have read; an easy read about her very interesting life as an American mommy in France. She compares her American parenting style to that of the French in a humorous and insightful way. I wish I had this book when my boys were infants, they may have better sleeping habits now.
UPDATE – Got a little farther on this book, I'm quite depressed by it all.. I feel like I'm doing everything wrong! Are the French really such wonderful parents? Do all their babies sleep through the night? Sigh.
ANOTHER UPDATE – My thoughts on a similar book with another great French baking recipe (Spice Bread).


AND ANOTHER UPDATE – Many people are talking about the size of the pan. After some research I realize the book does say loaf or 9″ round cake pan, she even talks about turning them into muffins for the morning. Try a 9″ or 10″ cake pan OR A large (9×5) loaf pan… many people have a smaller loaf pan which would cause it be underbaked. You can also break it into 2 smaller sized pans if that works for you, just watch the temperature. If you make this, please leave a comment about the size pan(s) you decided to use!
In the book she talks about a French friend's 3 year old daughter who bakes a yogurt cake (gâteau au yaourt) all by herself. This is the first cake recipe that most French children are taught due to the easy directions that include using the empty yogurt container to measure out the other ingredients. Druckerman explains that French children bake nearly every weekend, and its a lesson in patience as they typically bake in the morning and enjoy it with tea for their afternoon snack.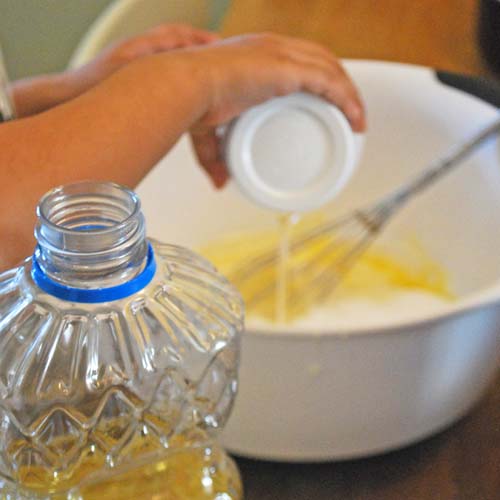 I have heard about this cake once before, so it was a happy surprise to discover it once again in this book, it felt like fate giving me a gentle reminder that I need to let my 3 year old try this cake. So I did, I talked him through the process but insisted he do everything, even when the flour was not leveled off (not even close) did I take over.. I just let him do his best and enjoy the "lesson". I stepped in when it was time to put the cake in the oven. I also held the bowl so he could scoop the batter into the loaf pan.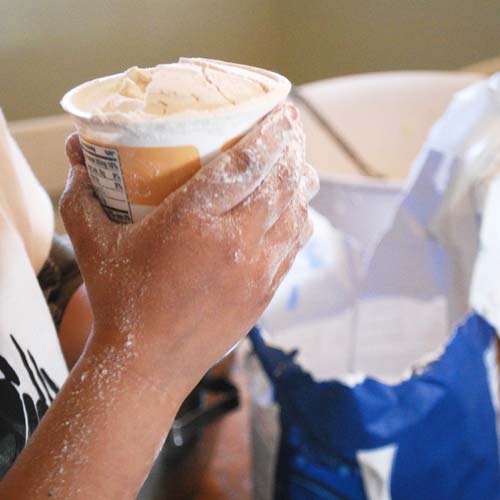 Although his measurements were uneven, this recipe is very forgiving and the cake was delicious. We had a tea party with grandma, who travelled cross country to visit us for a week. After an afternoon of pretty intense bowling fun, and race car races, and train play… grandma took a short cat nap. When she woke up, we had some fresh brewed jasmine honey tea, yogurt cake, and a little tea party table set up complete with flowers and a special hand picked race car for each of us.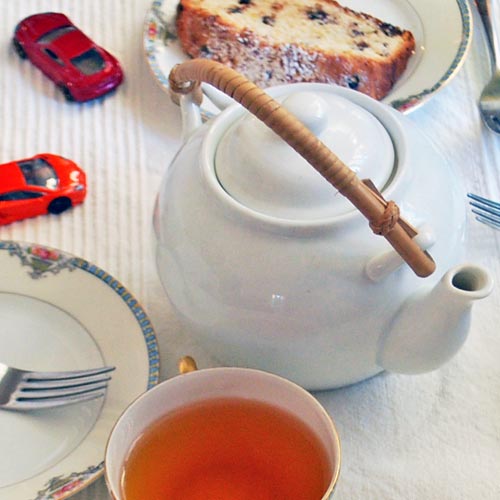 Recipe: Yogurt Cake (gâteau au yaourt)
Summary: adapted from Bringing Up Bébé
Ingredients
2 (6oz) containers of plain yogurt (keep containers for measuring the other ingredients)
2 eggs
2 containers sugar (my son's scoops were about 3/4 full)
1 tsp vanilla
just under 1 container of vegetable oil (my son filled his)
4 containers flour (my sons were all different)
1 1/2 tsp baking powder
1 container mini chocolate chips or 2 containers of frozen berries (optional)
Crème fraîche (optional)
powdered sugar (optional)
Instructions
Preheat the oven to 375 F
Coat a LARGE loaf pan or 9″ round cake pan with cooking spray or oil.
In a large mixing bowl, combine the yogurt, eggs, sugar, vanilla, and oil.
In a separate bowl, combine the flour and baking powder.
Add the dry mixture to the wet mixture, stir until just combined. You can now add the chocolate chips or berries if using them.
Scopp it all into your baking pan, bake for 35-45 minutes or until golden and the cake springs up when touched (or when a toothpick inserted is pulled out clean). Let it cool on a rack.
Dust with powdered sugar (optional) and serve with the Crème fraîche (optional).
Preparation time: 15 minute(s)
Cooking time: 40 minute(s)
Number of servings (yield): 8