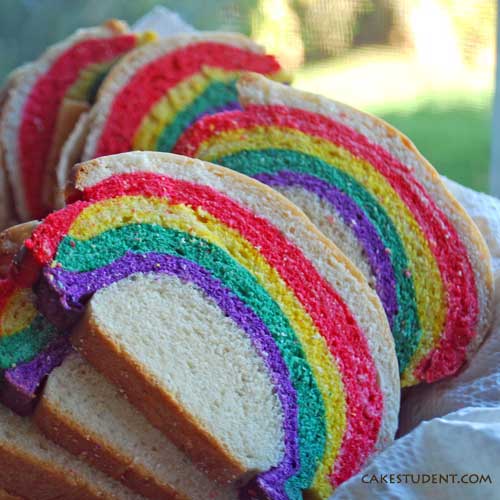 It's been a really gloomy week… it began with saying goodbye to my mom who is now back on the other side of the country, it ended with losing an hour to day light savings time (kids are off on sleep schedules) and everything in between seemed to go wrong. In other words, its the perfect time for some really happy cheerful bread.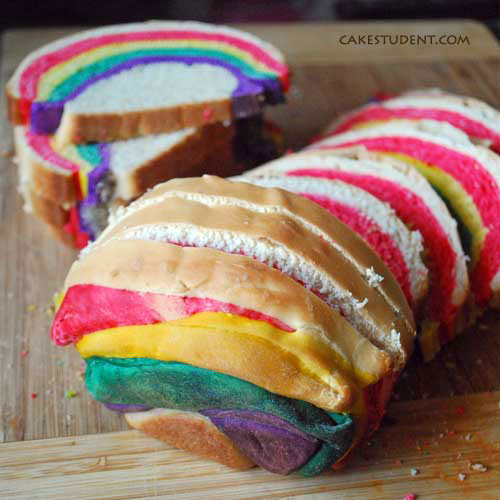 OK, so we actually made this 2 weeks ago when mom was visiting, but I'm tempted to make another loaf right now, I could use a little color on such a rainy cruddy day.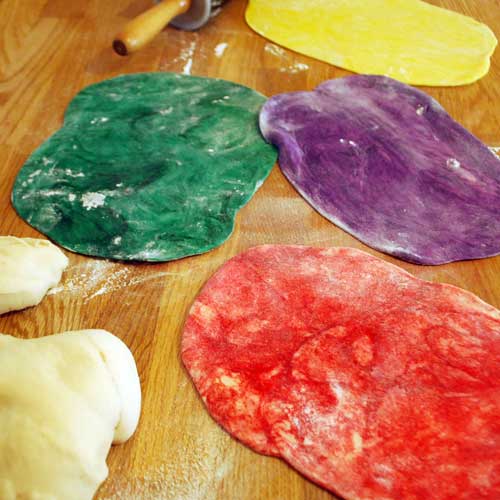 This rainbow bread was very easy to assemble, but its time consuming kneading in all the colors. Lucky for me, mom helped me out with that (thanks mom!).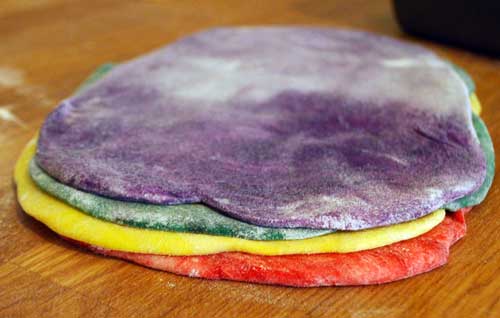 Roll out the colorful dough balls, then layer them. Using a plain roll of dough to help create an arch. Then top with a flat layer of plain bread dough. Simple!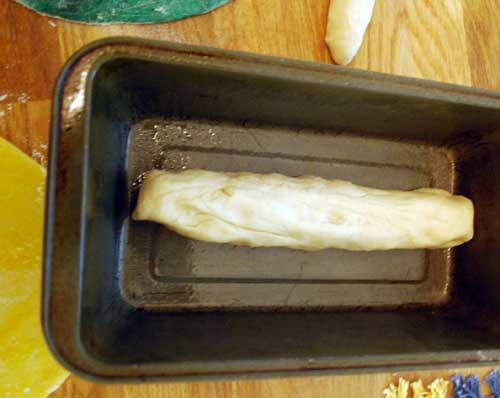 Something unique for a St. Pattys Day sandwich?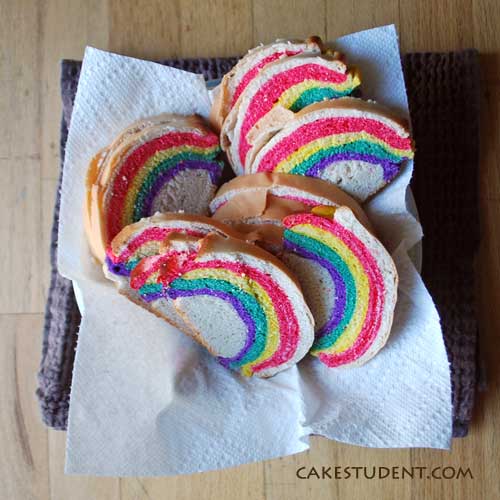 To see my complete collection of bread art, check out my new eBook!
Recipe: Over the Rainbow Bread
Ingredients
1 cup warm water
2 tablespoons vegetable oil
2-1/4 teaspoons active dry yeast (1 packet)
1/3 cup white sugar
3/4 teaspoon salt
3 cups all-purpose flour
food coloring of your choice
Instructions
Stir the warm water and yeast in the bread machine, wait 5 minutes for it to foam. Then add remaining ingredients (except the food coloring). Set on dough setting. (If you don't have a breadmaker, make this like any other bread.. knead the dough, let rise in warm area.)
Separate into several dough balls (you choose your colors and how many). Color them by using your mixer with the dough hook attachment and adding a few drops of food coloring until you get the color you like. This takes awhile and you may need to knead it by hand to even it out. Wipe clean the mixer. Add the next dough ball to the mixer and repeat with another color. Make sure to save plain dough for the top of the rainbow and the bottom arch.
Shape your bread! Use a rolling pin, pizza cutter or chopper if you have it. Place into a greased 9×5″ bread loaf pan. Cover with a towel. Let it rise for 30 minutes.
Bake at 350 for 30 minutes. Slice and Enjoy. Store in a ziploc bag to retain freshness or it will get hard over night.
Preparation time: 1 hour(s) 40 minute(s)
Cooking time: 30 minute(s)
Number of servings (yield): 12