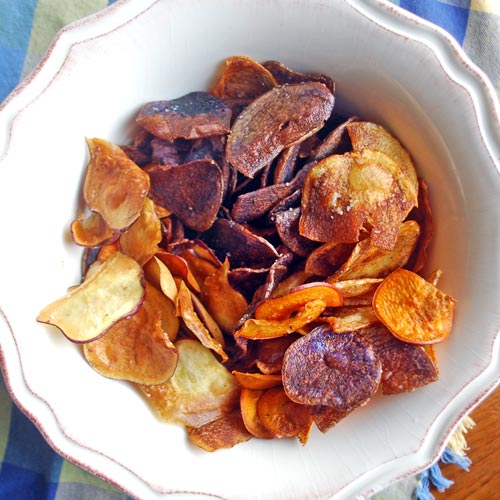 My family does a white elephant exchange every Christmas (with nice gifts), which makes the holidays fun and affordable when there are so many family members. So, my gift was this fry daddy. Goodbye to the days of using a pot with a candy thermometer! I haven't used it very often, so far I have only attempted french fries and chicken fingers.

So I was excited to see that potato chips were on the Kitchen-play.com menu this month, sponsored by the US Potato Board. The Urban Baker made her chips by sun drying them. This method sounded awesome, unfortunately its not possible for me due to the crazy number of squirrels that like to run our fence. It would have been like setting out a free meal to them. So I just sliced up my potatoes and fried them up. If you have never had home made potato chips you are missing out, they really are a different experience from bagged ones.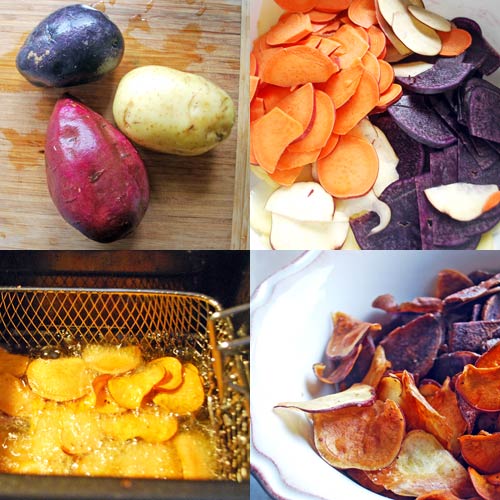 I chose blue potatoes, yukon gold, yams (not shown in photo), and a japanese sweet potato, which made for a colorful and tasty mix of chips.
Recipe: Potato Chips
Ingredients
variety of potatoes, about 3 or 4
vegetable oil for frying
sea salt
Instructions
heat your fryer to 375
Slice your potatoes thinly (use a mandoline slicer), let them soak in ice water while frying batches.
Fry in small batches for about 6 minutes (will depend on thickness of your slices), stir them a bit half way through with a fork.
Lay them out on a paper towel to cool, sprinkle with salt.
Preparation time: 5 minute(s)
Cooking time: 20 minute(s)
Number of servings (yield): 6