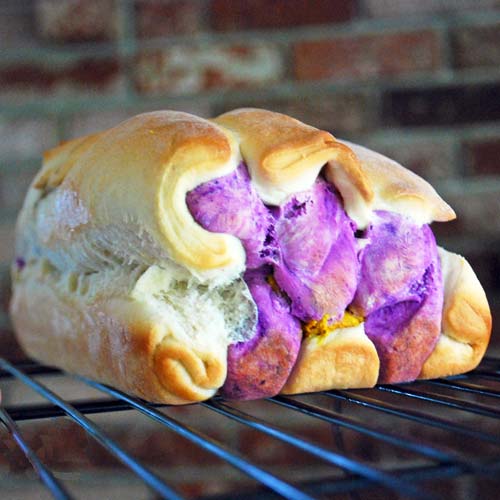 This is suppose to be a flower but I think it came out a little too distorted. What do you think it looks like? Maybe, two purple dinosaurs… fighting… over a … gold coin? Two squirrels… trying to get a nut?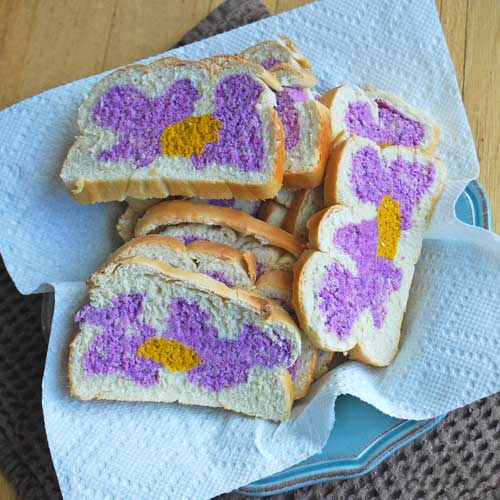 I have learned that to get nice looking bread art, you have to pick things that can handle some distortion because its just impossible to get it just right. But a distorted flower image didn't stop my family from devouring half a loaf this morning, fresh baked bread smothered with butter and honey… YUM.
Here is a field of flowers.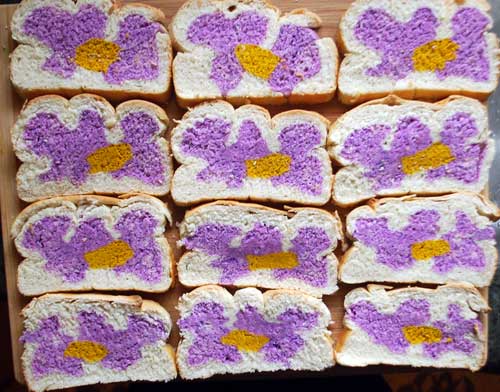 Step by step photos.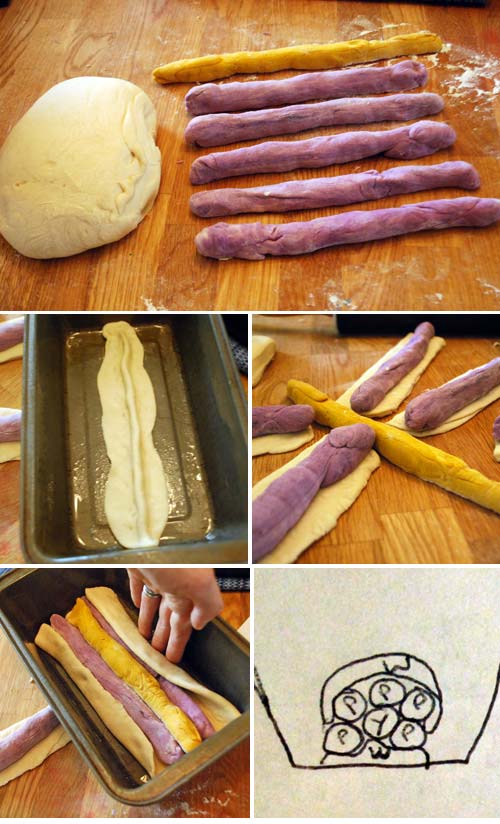 See also: Spooky Bread, Race Car Bread, Autumn Tree Bread, The Cat's Hat Bread, or Over the Rainbow Bread
Recipe: Flower Bread
Ingredients
1 cup warm water
2 tablespoons vegetable oil
2-1/4 teaspoons active dry yeast (1 packet)
1/3 cup white sugar
3/4 teaspoon salt
3 cups all-purpose flour
food coloring of your choice
Instructions
Stir the warm water and yeast in the bread machine, wait 5 minutes for it to foam. Then add remaining ingredients (except the food coloring). Set on dough setting. (If you don't have a breadmaker, make this like any other bread.. knead the dough, let rise in warm area.)
Separate into 3 dough balls (you choose your colors). Color them by using your mixer with the dough hook attachment and adding a few drops of food coloring until you get the color you like. This takes awhile and you may need to knead it by hand to even it out. Wipe clean the mixer. Add the next dough ball to the mixer and repeat with another color.
Shape your bread! Use a rolling pin, pizza cutter or chopper if you have it. Place into a greased 9×5″ bread loaf pan. Cover with a towel. Let it rise for 30 minutes.
Bake at 350 for 30 minutes. Slice and Enjoy. Store in a ziploc bag to retain freshness or it will get hard over night.
Preparation time: 1 hour(s) 40 minute(s)
Cooking time: 30 minute(s)
Number of servings (yield): 12