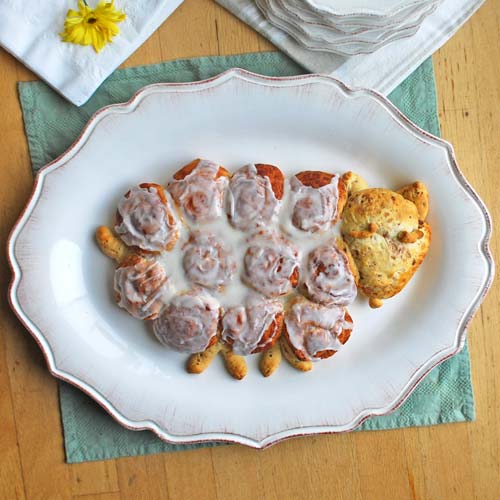 Talk about a sweet little lamb!

Bryanna over at the Vegan Feast Kitchen blog makes this every year for her Easter brunch and I just thought it was so creative I had to give it a try. She has her own recipe (one day I will try it out) but I thought I might attempt this with store bought so I could share my experience for those who need a quick alternative. It cost me $4 and took about 15 minutes after popping the dough cans to create the lamb.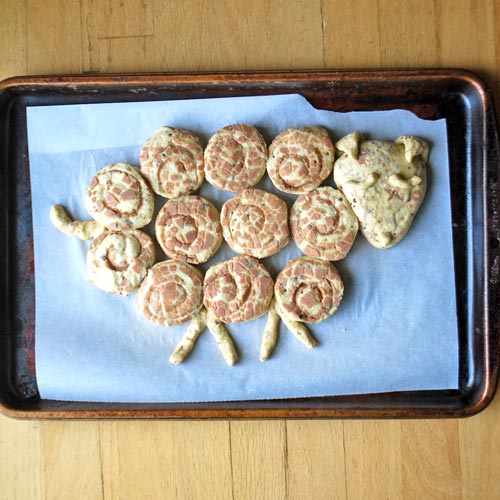 Recipe: Easter Lamb Cinnamon Buns
Summary: adapted from Vegan Feast Kitchen
Ingredients
2 rolls of cinnamon roll dough (not the grands, the regular sized of 8 rolls per package)
Instructions
Preheat oven according to cinnamon roll package directions.
On a parchment paper lined baking sheet, arrange 11 rolls to form the body.
Take the remaining 5 and knead them together to form 1 single dough ball.
Take about 1/3 of that and roll out a log with your hands. Cut the log to make the tail, 4 legs, ears and eyes.
The remaining, form a triangle head.
Bake according to package directions, until gold brown.
Let it cool. Then gently transfer to your platter (I slipped a cutting board underneath to help lift it off the baking sheet).
Then heat the glaze topping in a microwavable safe mug or small bowl for about 6 seconds, stir, and drizzle over the rolls. Serve!
Preparation time: 15 minute(s)
Cooking time: 14 minute(s)
Number of servings (yield): 12