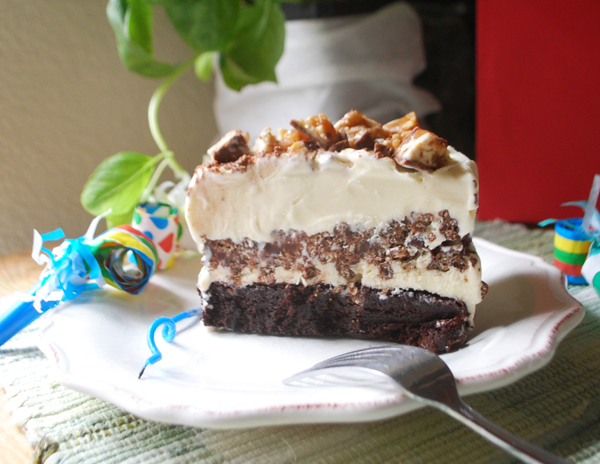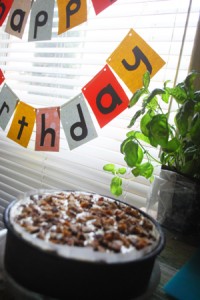 My hubby is celebrating his 35th birthday this year, the 10th one that we have celebrated together! Thinking back, I have made various cakes or desserts for him and sometimes we just went out to a nice restaurant… but I really haven't done anything memorable. So this year I wanted to actually create a cake specially for him.
My husband isn't a picky eater by any means, he always eats what I make for him and when I ask what he thinks, his response ranges from a "Eh" grunt, to "its ok", and on rare occasions I get the very firm "its a keeper". I know its really bad when he leaves his seat to fetch his mom's homemade hot chili sauce. What I'm trying to say is that although not a picky eater, he definitely knows what he likes. When it comes to desserts I know exactly what his favorite things are, and I put them all together to make this cake.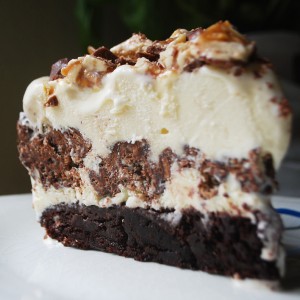 Layer 1: Had to be brownies, dark chocolate variety. I know because the few times when we have gone a to a buffet, he is always excited to end the meal with frozen yogurt over a brownie. I used Trader Joe's Guilt Free brownies, they only require 1 cup yogurt, and bakes in 20 minutes.
Layer 2 & 4: Had to be Vanilla Ice Cream, ONLY the kind from Costco… Kirkland Signature Super Premium Vanilla Ice Cream.
Layer 3: Had to be nutella, he got hooked on this stuff when we lived in Switzerland for a year (one of our more adventurous "before kids" move.) This was turned into a crispy layer using a crispy rice cereal.
Layer 5: Snickers, his favorite candy bar.
The end result is something I like to call Snick-a-tella ice cream cake. Wow is it delicious! When my husband took a bite, he declared his love for this new creation and told me he wants this to be his official birthday cake. It lasted us a full week and every night, after the kids went to bed, we looked forward to grabbing another slice from the freezer. I'm so sad its gone.
Note – I have to admit, the rice crispy nutella middle was so easy to bite through and had a lovely crunchy texture, but it was oddly difficult to fork. I think adding more cereal to the mix might make this easier.
Recipe: Snick-a-tella Ice Cream Cake
Summary: Snickers and Nutella are the highlights of this cool creamy dessert.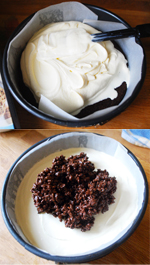 Ingredients
1 prepared pan of Brownies (in a 9″ spring form pan)
1 half gallon Vanilla Ice Cream
1/2 cup Nutella
2+ cups Rice Crispies Cereal
4 1 oz cubes semi-sweet baking chocolate
4 Tbsp Unsalted Butter
2 Snickers Bars
Instructions
In a springform pan, bake 1 package of brownies. Let Cool.
Set the container of Vanilla Ice Cream sit out at room temperature. You can speed this process up by using the warm function in the microwave.
Scoop out the ice cream into a large bowl. Stir. Should be a nice easy consistency for spreading (still thick but soft).
Stick pieces of parchment paper along the sides of the brownie pan.
Spread HALF the ice cream onto the brownie layer. Freeze for about 30 minutes, or until hardened. Keep the remaining ice cream in the freezer or refrigerator.
Meanwhile, in a microwavable bowl, melt the cubes of chocolate per package directions. Stir in the butter, nutella and then the crispy cereal.
When ice cream layer is hardened, spread the nutella mixture on top of it. Then re-stir and spread the other half of ice cream.
Chop up the snickers bars into small chunks. Sprinkle on top the cake. Freeze for about 5 hours.
Preparation time: 1 hour(s)