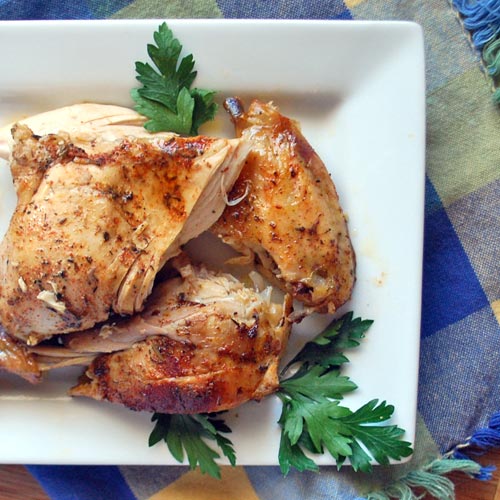 Its summer time, the kids are out of school and the days are free for some exciting outings. When you are out enjoying the day, put your slow cooker to work for you and come home to a hearty dinner.

It doesn't get more perfect than this… a healthy and delicious meal that requires little work on your part. I found this recipe online last year, tried it, fell in love with it, and have made it at least once a month ever since. Note, you won't be able to lift the chicken onto a serving platter in one piece, the chicken meat will fall right off the bone. Ladle the juices on the bottom of the slow cooker over the meat before serving.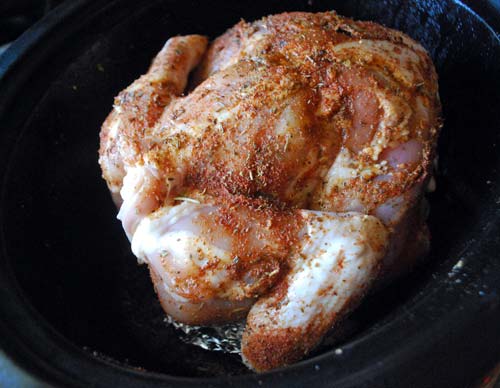 Prepare it the night before, pull it out of the fridge in the morning, then start the cooking before you step out of the door. When you walk back into the house after a long day, you will be greeted by the most savory smells coming from your kitchen. Its easy & delicious comfort food. Cook with some foil wrapped potatoes, then throw some greens on your plate to complete the meal.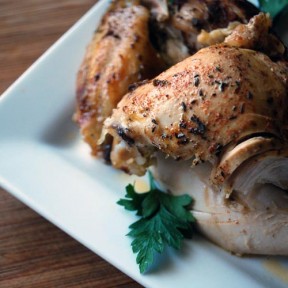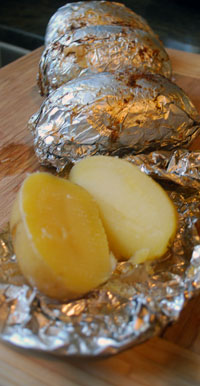 Recipe: Slow Cooker Roast Chicken & Potatoes
Summary: adapted from A Year of Slow Cooking
Ingredients
1 whole chicken, skinned (4-5 pounds)
4 or 5 Garlic cloves
1 Onion, quartered
Potatoes (I use golden)
2 tsp Kosher salt
1 tsp Paprika
1 tsp Onion powder
1/2 tsp Dried thyme
1 tsp Italian seasoning
1/2 tsp Cayenne pepper
1/2 tsp Black pepper
Instructions
(If cooking both the potatoes and the chicken you might want to first check to see if there will be room in the slow cooker for both before proceeding.)
Scrub about 4 or 5 potatoes, however many will fit on the bottom of your slow cooker. Prick with a fork, then wrap in foil. Place on the bottom of your slow cooker.
If you prefer, remove as much of the chicken skin as you can. This step is entirely up to you, I do this step because no on in our family likes the skin and this method will flavor your meat directly.
Clean out the chicken cavity and rinse the whole thing under water. Pat dry with a paper towel.
Stuff the cavity with onion and garlic.
In a small bowl, combine the seasonings. Rub all over your chicken.
Place the chicken over the potatoes, breast side down.
Cook on high for 4 to 5 hours, or low for 8.
When serving, spoon up some of the juice on the bottom and ladle over the chicken.
Preparation time: 15 minute(s)
Cooking time: 5 hour(s)
Number of servings (yield): 4