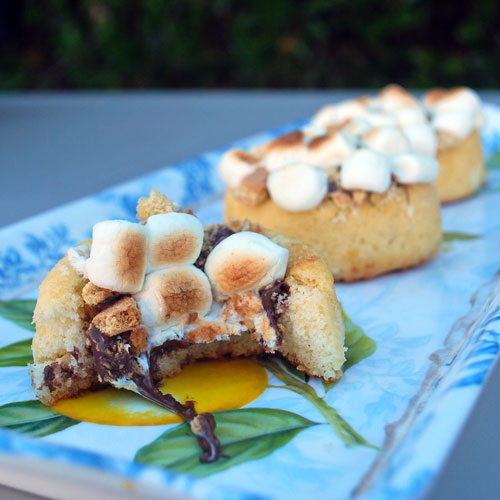 I am on a quest for the perfect grilled dessert. We have had several sweet disasters usually leaving us with some sort of softened burnt graham cracker. Just when I was beginning to think grilled s'mores just cannot be done on our grill, I saw a cake at the end of the tunnel.


So, I made a little mistake. Hard to believe, given this is quite possibly the easiest recipe ever but… I was in a rush, over confident, didn't read the instructions blah blah blah. The crushed crackers are supposed to be UNDER the Nutella. (Helps the marshmallows stick.) Doh!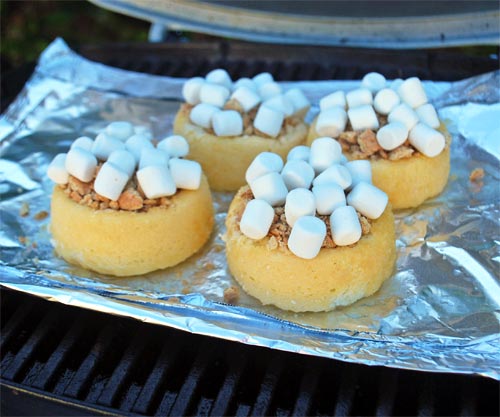 PROS:
They were quick and easy to assemble.
Would be a breeze to pack and transport the ingredients for a BBQ grilling at the beach or park or tailgate party.
They were yummy! Tasted very rich and very s'mores like.
Worked on a transportable grill that doesn't have the upper bun rack. If you have that higher level rack then use it! Otherwise use multiple layers of foil to help prevent a burned cake bottom.
CONS:
The marshmallows did NOT brown on the grill. I wanted toasty marshmallows so I put mine under the oven broiler for 2 minutes. If cooked per Sandra Lee's instructions the marshmallows are going to be very soft but not toasty. I think I could live with this if I were away from the house. However if on a camping trip, I would opt for a good old fashioned s'mores over this cake.
They were good, I would definitely make them again, but not perfect. So the quest continues.
Recipe: Grilled S'mores Cakes
Summary: adapted from Sandra Lee
Ingredients
4 pre-made dessert shortcake shells
1/2 stick unsalted butter, melted (1/4 cup)
4 TBSP Nutella
2 crushed graham crackers
1/2 cup mini marshmallows
drizzle of chocolate sauce (optional)
Instructions
Brush the cakes with melted butter (concentrate on the bottoms).
Fill with crushed crackers.
Drop a tablespoon amount of Nutella onto the cracker topped cakes.
Top with marshmallows.
Place onto foil (double it up) over low heat on a grill. Cover. Check after 5 minutes. Alternately, cook in an oven.
Preparation time: 5 minute(s)
Cooking time: 5 minute(s)
Number of servings (yield): 4