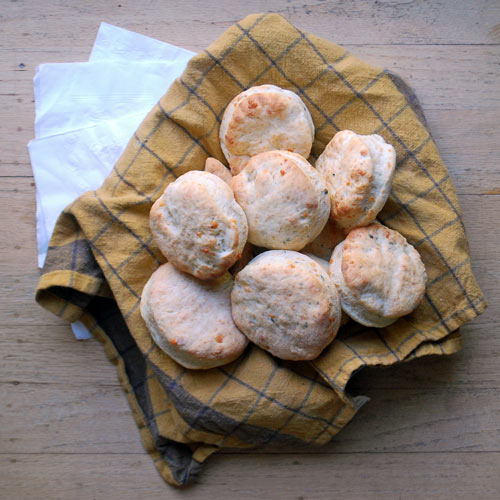 I whipped these up on Father's Day morning and made egg-n-bacon sandwiches with them. I thought the recipe looked interesting because its made with yogurt.
YUMMY! I was starting to stuff my face with a 3rd when I decided my stomach just couldn't stand another bite, I mean there wasn't even room for a sip of water. Best biscuits I ever had. Light but moist, and very easy to slice in half, no crumbs.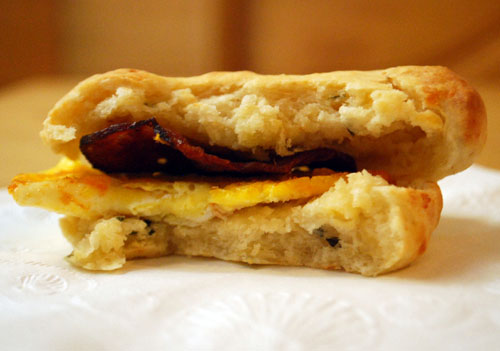 Sorry, they just didn't last long enough for me to take better photos of the finished sandwiches!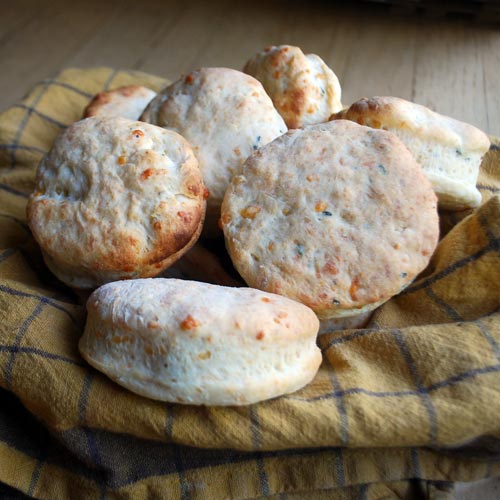 My husband says it was an awesome Father's Day… after this hearty breakfast he was off on a treasure hunt. My 4 year old made a map leading to the treasure chest full of goodies for his daddy. I couldn't tell who was the happier pirate!
Recipe: Yogurt Bicuits
Summary: adapted from How To Cook Everything Vegetarian
Ingredients
2 cups flour
1 tsp salt
1 TBSP baking powder
1 tsp baking soda
5 TBSP cold butter
1/2 cup or more of Grated cheddar cheese (optional)
Chopped fresh herbs (parsley & chives work well) (optional)
1 cup yogurt
Instructions
Preheat oven to 450 F
In a large bowl, combine your dry ingredients.
Using a cheese grater, grate the cold butter into the bowl (or just cut it up with a knife, I like using the grater!).
Use a fork or your hands to crumble it all together as best you can.
Stir in the grated cheese and herbs (if using).
Stir in the yogurt just until a large ball forms.
Knead out the ball of dough onto a lightly floured work surface. It should be slightly sticky but not too much, use a bit more flour if you need to make it workable.
Flatten the dough to about 3/4″. USe an upside down glass to cut round cirlce biscuits. Lay on a baking sheet and bake for 7-9 minutes or until golden brown. They are best when eaten fresh.
Preparation time: 15 minute(s)
Cooking time: 10 minute(s)
Number of servings (yield): 10