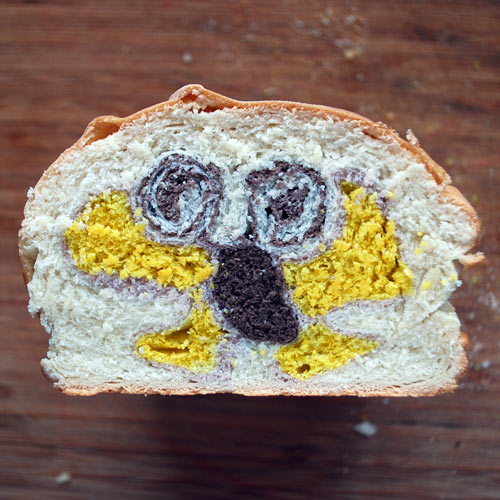 This little butterfly went through quite a metamorphosis… he was suppose to be green, then blue, but then the blue came out gray, so I made him yellow with gray outlined wings. After his baking the gray all but disappeared and his antennas turned out to be more like "bug eyes". However, I still consider him to be a success because his wings are all attached. No easy feat I tell you!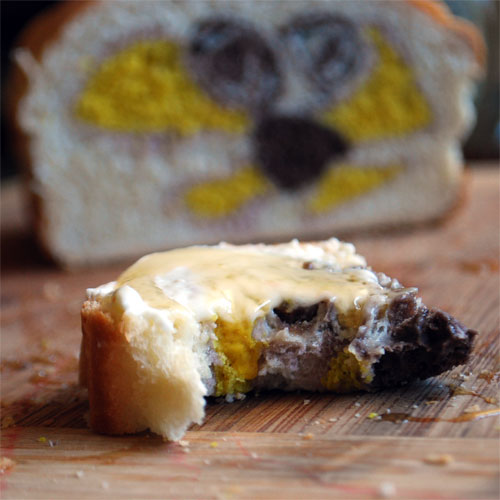 Bug eyes or not, he was delicious. Fresh warm baked butterfly bread smothered in crème fraiche and drizzled with honey. My boys couldn't get enough of it!

The color was unpredictable because I used the India Tree Natural Food coloring for the first time. The blue and yellow (I used red for my lady bug bread which will be appearing soon!). The yellow is wonderful, vibrant and highly recommend it for bread dough. The blue, not so much. Darn. (The black is dark cocoa powder.)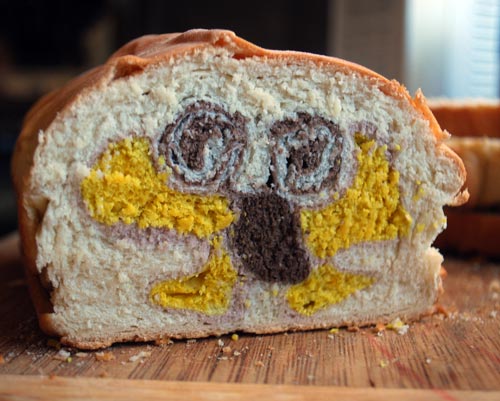 This bread goes out to myemeraldmind, a visitor to my blog who so graciously left me a comment. Bloggers love to get comments! Leave a suggestion for bread art and you might just see it featured on cakestudent one day.
To see step by step instructions on how to make this bread and many other examples of bread art, check out my new eBook!
Recipe: Butterfly Bread
Ingredients
1 cup warm water
2 tablespoons vegetable oil
2-1/4 teaspoons active dry yeast (1 packet)
1/3 cup white sugar
3/4 teaspoon salt
3 cups all-purpose flour
cocoa powder
food coloring of choice
Instructions
Stir the warm water and yeast in the bread machine, wait 5 minutes for it to foam. Then add remaining ingredients (except the cocoa powder and food coloring). Set on dough setting. (If you don't have a bread machine, make this like any other bread.. knead the dough, let rise in warm area.)
Shape your bread! Use the steps above for guidance. Use a rolling pin, pizza cutter or chopper if you have it. Place into a greased 9×5″ bread loaf pan. Cover with a towel. Let it rise for 30 minutes.
Bake at 350 for 30 minutes. Slice and Enjoy. Store in a ziploc bag to retain freshness or it will get hard over night.
Preparation time: 2 hour(s)
Cooking time: 30 minute(s)
Number of servings (yield): 12