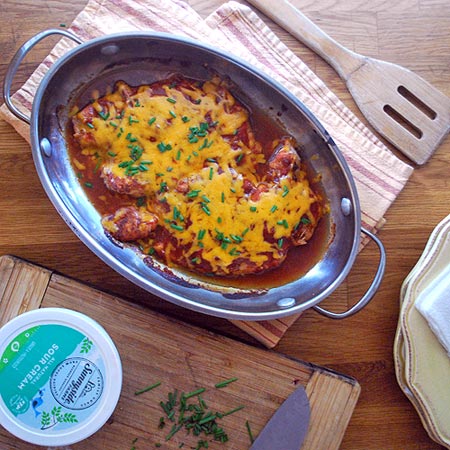 One of the few recipes I do without even looking at a recipe book (that does wonders for my self esteem). This is truly so simple to make and tastes so delicious your taste buds will be throwing a fiesta.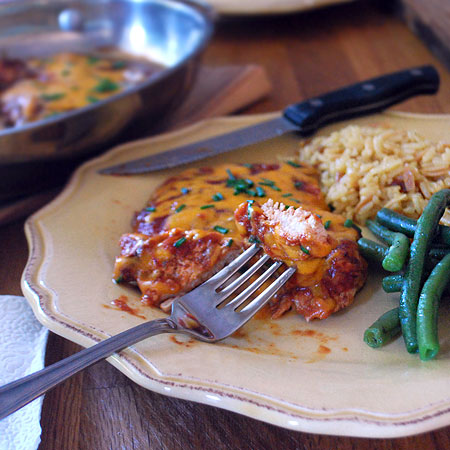 Great option for busy weeknights. Just rub the chicken breasts with some taco seasoning and top with salsa. I like my salsa smooth and mild because I have young kids and the taco seasoning gives it a great kick.
I like to pound out the chicken so it cooks evenly and helps with portion control. I find that 2 large chicken breasts are enough for my family of 4 (2 adults and 2 little kids) when we have sides. Goes great with some spanish style rice and green veggies!
¡Buen apetito!
(One of the keeper recipes I found on allrecipes.com several years ago.)

Salsa Chicken
Quick n Tasty weeknight meal!
Ingredients
4 boneless skinless chicken breasts
4+ teaspoons taco seasoning (roughly)
1 cup salsa
1 cup cheddar cheese, grated
sour cream & chives, optional toppings
Instructions
Preheat oven to 375F.
Pound the chicken breasts to equal thickness.
Generously rub the taco seasoning over the top and bottom of each chicken breast.
Place into a casserole pan, cover in salsa.
Bake for 25 minutes.
Top with the cheese, bake for an additional 5-7 minutes, or until cheese is melted and bubbly.
Serve with sour cream and chives.