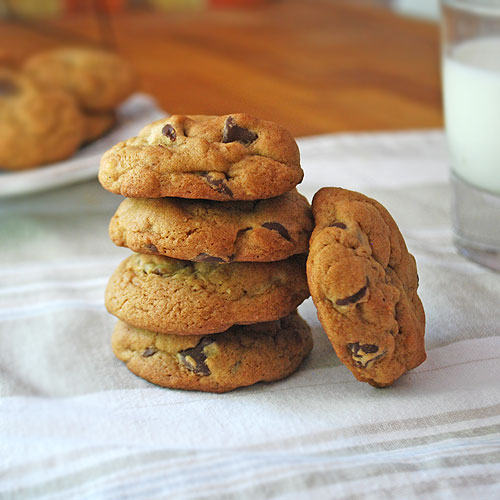 Finding the right chocolate chip cookie recipe is kind of like dating. Once you fall in love you stop looking. You either have one you LOVE and stick to it or you just keep trying new ones. I used to be a dater. I tried everything, even the one on the back of the chocolate chip bag. I know. Sad. Fortunately for me I never met a chocolate chip cookie I didn't like.
Well folks, that was before.
Then one glorious day I found this recipe from Roland Mesnier, former White House pastry chef. It was love at first bite and I never strayed again.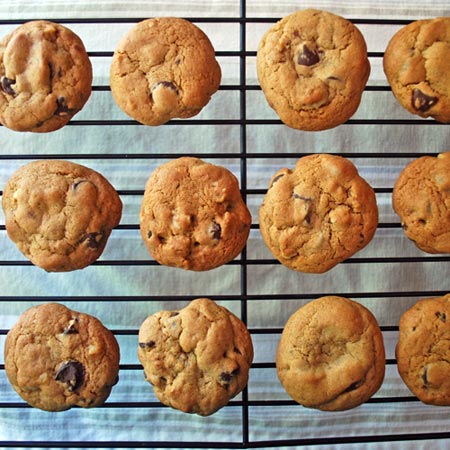 According to his book, Dessert University, this very recipe was the one he baked on an almost daily basis at the White House.
His special ingredient? Molasses.
Molasses keeps the cookies chewy and gives them an intense brown sugar flavor.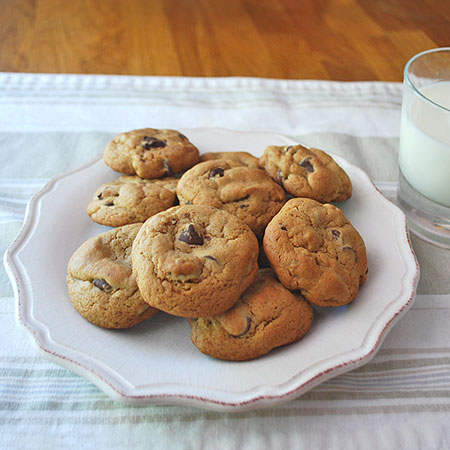 Give it a try, I guarantee you will never go back to chocolate chip cookie dating again.
Perfectly Chewy Chocolate Chip Cookies
adapted from Dessert University by Roland Mesnier
Ingredients
3 cups + 3 tablespoons all-purpose flour
1 teaspoon baking soda
¼ teaspoon salt
1 cup (2 sticks) unsalted butter, softened
1 cup granulated sugar
⅔ cup light brown sugar
2 large eggs
¼ cup molasses
1 tablespoon vanilla extract
2 cups chocolate chips (1 12-ounce bag)
1 cup chopped walnuts
Instructions
In a large bowl, combine the flour, baking soda, and salt.
Using your electric mixer with a paddle attachment, beat together the butter and both sugars. Add the eggs, molasses, and vanilla.
Slowly add the flour mixture until combined.
Add chocolate chips and walnuts.
Refrigerate for 1 hour.
Preheat the oven to 400F.
Line baking sheets with parchment paper.
Roll cookie dough balls about 1 tablespoon in size. Bake for 8-10 minutes, until golden. Let cool on baking racks.
These store well for several days in an airtight container.