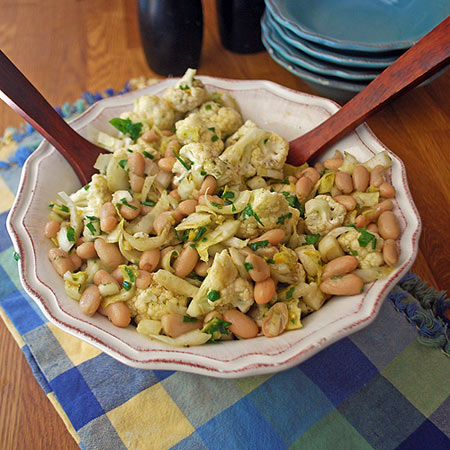 We are taking advantage of the beautiful weather here in Northern California by using the BBQ while we can still enjoy it. I was getting a little tired of watermelon and corn on the cob sides, so to mix it up a little I made this beautiful and delicious cauliflower salad. The recipes makes quite a bit, so you might want to halve it if you are cooking only for your family.

This recipe was given to me while taking a cooking class at Delish! with my mom and sister last year in Buffalo, NY. We took my mom for her 60th birthday and had so much fun I can't wait to do it again. If you have never done a cooking class… I highly recommend it! This type of class was perfect for us since we didn't have to do ANY actual cooking, we just sat and sipped wine while the chef cooked us up several summer salads and gave us cooking tips. They should have called it "let someone else cook for you for a change" class, they would probably attract a lot more customers! Of all the salads we feasted on that lovely evening, this one was my favorite. Crispy and fresh with a zingy lemon dressing and lots of crunch (which tastes great for leftovers the next day as well).
I love my wooden lemon reamer, makes it so easy to get every drop out of each lemon.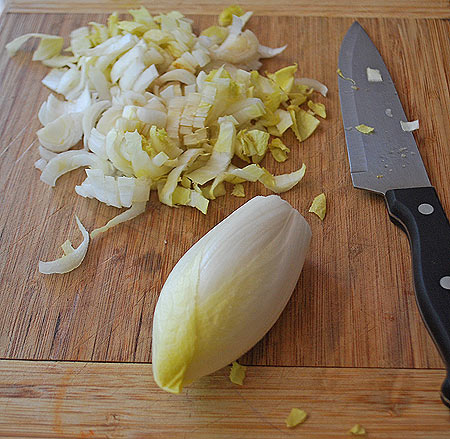 Peel a few outer layers off the endive, then chop off the thick base. Slice in half lengthwise, then chop crosswise.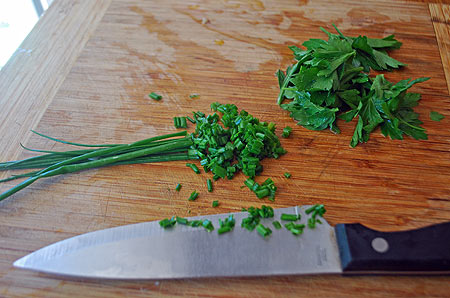 Keep the chives in a bunch, chop crosswise into tiny pieces.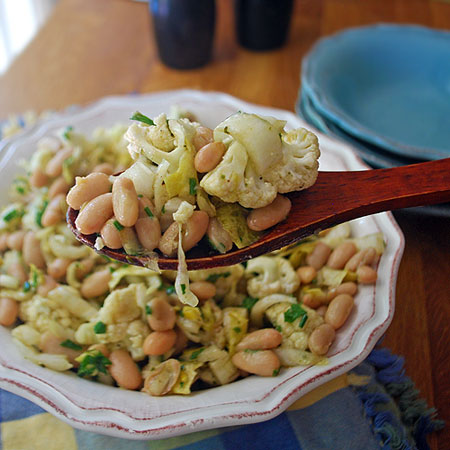 Not shown, but top with some crumbled feta cheese. Yum!
Cauliflower, Endive & White Bean Salad
Ingredients
Dressing
⅓ cup olive oil
1 teaspoon fresh rosemary, minced
2 teaspoons lemon zest
1 fresh lemon, squeezed
1 tablespoon balsamic vinegar
1 teaspoon salt
fresh ground pepper
Salad
1 medium head of cauliflower, trimmed and cut into small florets
1 (15oz) can white beans (Great Northern or navy work great), drained
2 large endives, trimmed, halved lengthwise then chopped
1 bunch fresh chives, chopped
1 tablespoon fresh parsley, chopped
½ cup crumbled feta cheese for serving
Instructions
Dressing
Heat olive oil and rosemary in a small pot over medium heat for a few minutes until fragrant. Remove from heat and let cool.
In a medium bowl, mix the lemon juice and lemon zest, vinegar, salt & pepper.
In a large bowl combine the salad ingredients: cauliflower, beans, endives, chives & parsley. Toss with the oil mixture and lemon dressing.
Season with more salt and pepper to taste.
Top with feta before serving.