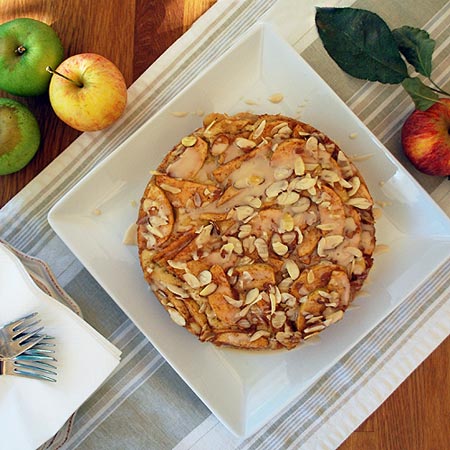 A light but sweet and satisfying cake to have with your morning coffee.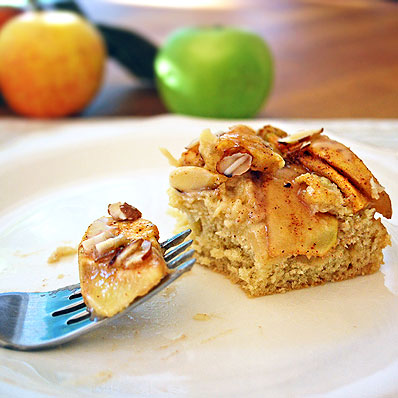 Hello Autumn. My favorite season… and to kick it off we dress our boys up in their matching jean overalls and drive down to our local apple tree farm where we do some serious eating picking.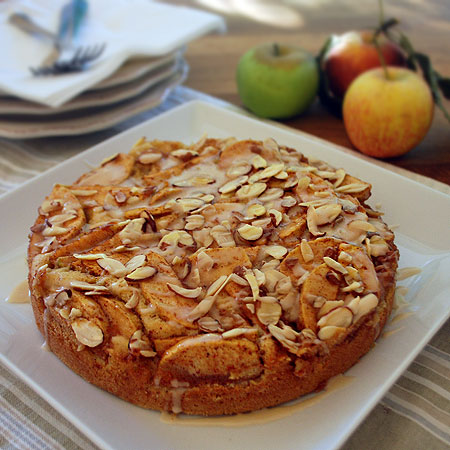 We had 2 bags of apples to enjoy. I made apple cobbler and buttermilk ice cream, applesauce, and most recently this lovely light coffee cake found in an old Cooking Light "Best of" book. Slice the cake into 8 pieces and its only 185 calories a slice!

Buttermilk Apple Coffee Cake
adapted from Cooking Light 2002
Ingredients
1½ cups thinly sliced Granny Smith apple
3 tablespoons brown sugar
1 tablespoon lemon juice
½ teaspoon ground cinnamon
1 cup all purpose flour
½ teaspoon baking soda
pinch of salt
⅓ cup sugar
2 tablespoons butter, softened
1 egg
1 teaspoon vanilla extract
½ teaspoon almond extract
½ cup low fat buttermilk
2 tablespoons sliced almonds
Glaze
¼ cup sifted powdered sugar
1 teaspoon low fat buttermilk
¼ teaspoon vanilla extract
Instructions
Preheat oven to 350F.
In a small saucepan over medium heat, gently stir the apples with the brown sugar, lemon juice, and ground cinnamon. Cook for 5 minutes or until syrupy, stir frequently. Remove from heat and let cool.
In a small bowl, combine the flour, baking soda and salt.
In an electric mixer, beat the sugar and butter. Add egg, vanilla and almond extracts.
Slowly beat in the flour mixture and buttermilk (alternately).
Spoon batter into a well greased (cooking spray or buttered) 8 inch round cake pan.
Gently top with the syrupy apples.
Sprinkle with almonds.
Bake at 350 for 25-30 minutes.
Glaze
Stir together the powdered sugar, buttermilk and vanilla extract. Drizzle over the baked cake.