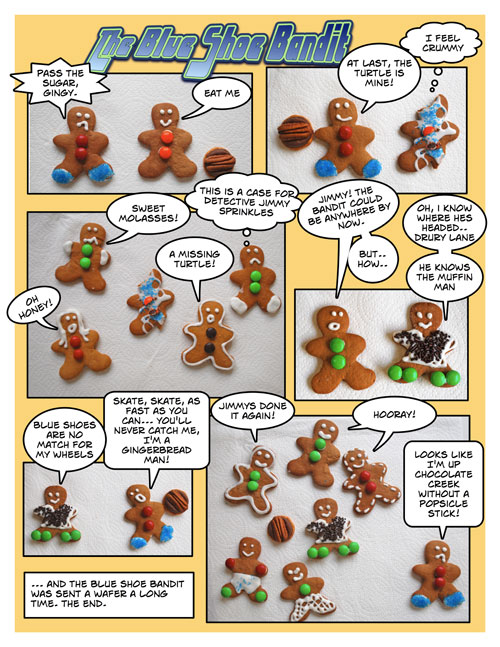 I made this recipe last year and they tasted great. The secret, I found, roll them evenly and not too thin. Also, separate dough into chunks, work with one chunk at a time so they don't get re-rolled too much.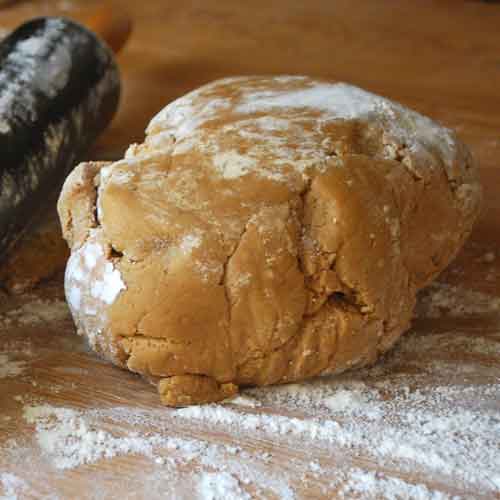 These took 3 days.. the first night, I made the dough. Next day, my son and I rolled and cut out the dough and baked. Day 3, we decorated.
These make fun gifts. Two gingerbread men, a turtle candy and the printed out comic strip.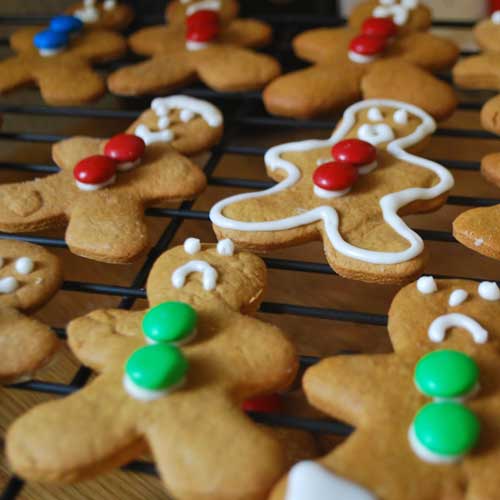 Summary: from Paula Deen
Ingredients
3/4 cup packed dark brown sugar
1 stick butter or margarine, softened
2 large eggs
1/4 cup molasses
3 3/4 cups all-purpose flour, plus more for dusting
2 tsp ground ginger
1 1/2 tsp baking soda
1/2 tsp ground cinnamon
1/2 tsp freshly grated nutmeg
1/2 tsp salt
1 cup powdered sugar
1 to 2 Tbsp milk
Instructions
Cream together the sugar and butter in an electric mixer.
Add eggs & molasses until combined.
In a large bowl, combine the flour, ginger, baking soda, cinnamon, nutmeg, and salt.
Mix the flour mixture into the butter mixture, little by little until combined.
Remove the dough, wrap in plastic wrap and refrigerate for about 1 hour or overnight.
Preheat oven to 350 F
Let dough stand at room temperature for 15 minutes.
Line baking sheets with parchment paper.
Roll out onto a lightly floured surface, to about 1/8″ thick. Cut out with cutters.
Bake for 10 minutes. Cool on racks.
Icing: Mix the powdered sugar with milk. Use piping bags to decorate the cookies.
Preparation time: 1 hour(s) 30 minute(s)
Cooking time: 10 minute(s)
Number of servings (yield): 24