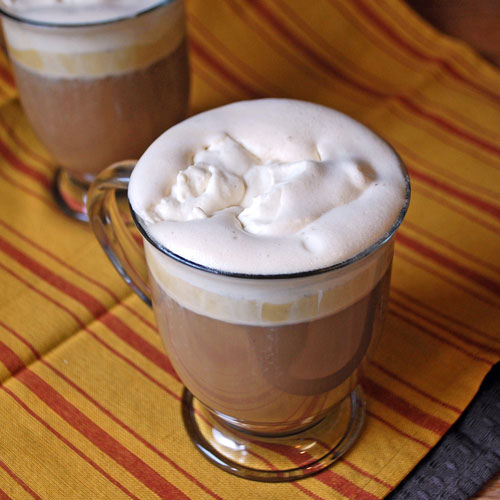 Thanks to Lauren over at Healthy and Delicious for this wonderful recreation of the Starbucks seasonal Gingerbread Latte. My husband and I thoroughly enjoyed this hot beverage. It was so good, I couldn't stop myself from drinking the whole cup… my first FULL cup of Joe in over 16 months (because of baby boy). Oh, did I ever need caffeine today! My babe is waking every 2 hours again because he got his first tooth, yippeee! Did you know that baby teeth grow the most while your baby is sleeping?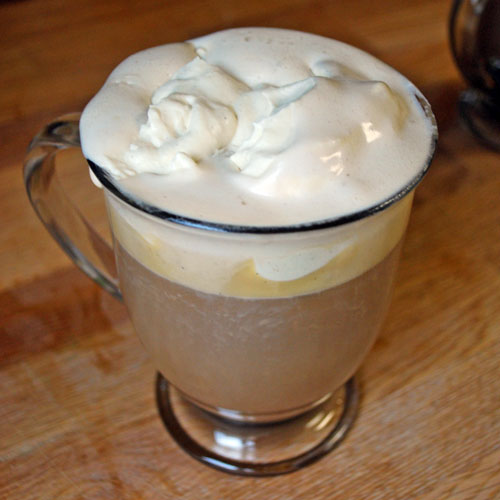 So, back to the coffee… I asked my husband if he would help me out on this one. He said "Absolutely, what can I do?". I told him I saw this amazing looking beverage over at the kitchen-play November menu and wanted him to make the strong coffee thats called for it.
He is the coffee drinker in this house… choosing the beans (he picked Philz Jacob's Wonderbar.. a local bay area roast), grinding them fresh, and brewing it with such care he uses a spoon to stir the grounds while the hot water streams through the coffee filter. The stirring, according to the man, promotes the evenness of the brew ensuring a uniform and rich taste. Yep, he makes a good cup of Joe.
My hubby also goes through phases in his coffee taste, and as luck would have it… he just finished the "I like it black so I can taste the flavor" phase and has moved on to "sugar with cream, but it has to be heavy cream" phase. Yippee, excellent timing for this drink.
I made the syrup Saturday night, which helped make this effort feasible. I mean, who wants to be making syrup when you are half awake? On a related note… my 3 year old never got the memo about day light savings time, who knew that one day I would abhor "fall back" DST? An extra hour of sleep DST sounds glorious to anyone.. except those with young kids.
I made this slightly different than Lauren, I cheated a little by nuking the milk and syrup together thus eliminating any stovetop prep in the morning. I also whipped up the topping with cinnamon sugar.
I gave my 3 year old a bit of the sweetened milk (diluted with more warm milk) in his little mug so he could enjoy a spicy gingery tasting milk beverage along with us. Perfect!
Tip: Double the syrup recipe, add more sugar and water (spice amounts should be fine).
Recipe: Gingerbread Latte
Ingredients
1/4 cup sugar
2 Tbsp brown sugar
1/4 cup water
2 in. of fresh ginger (peeled, chopped)
1 cinnamon stick
5 whole allspice berries
5 whole black peppercorns
1/2 cup milk
1/2 pint heavy whipping cream plus 2 Tbsp Cinnamon Sugar
4 cups strong coffee
Instructions
In a small saucepan, combine the sugars, water, ginger slices, cinnamon, allspice berries, and peppercorns.
Bring to a low gentle simmer, stirring until the sugar is dissolved. Reduce heat and simmer for 15 minutes.
Remove from heat, and let stand for 1 hour. Filter with a fine sieve. (Refrigerate if desired, for the next morning or up to 2 weeks).
Combine milk and syrup in a small microwaveable bowl, microwave for 10 seconds at a time, stirring in between. Do not allow the milk to burn.
Meanwhile, whip the cream and cinnamon sugar until it forms soft peaks.
Combine the coffee, warmed milk syrup and divide between four glasses. Top with whipped cream and serve.
Preparation time: 30 minute(s)
Cooking time: 20 minute(s)
Number of servings (yield): 4