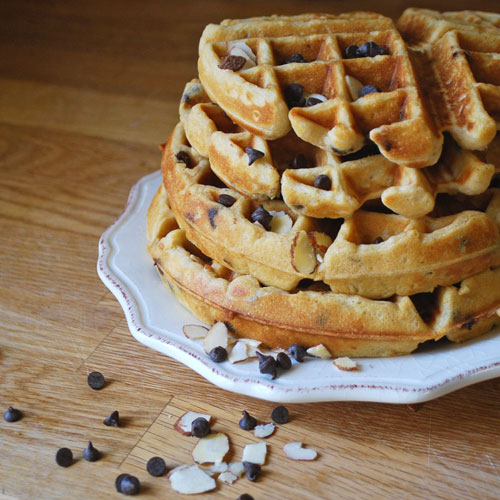 While indulging on a stolen almond joy, taken from my 3 year old's Halloween bucket, I was inspired to make a new waffle.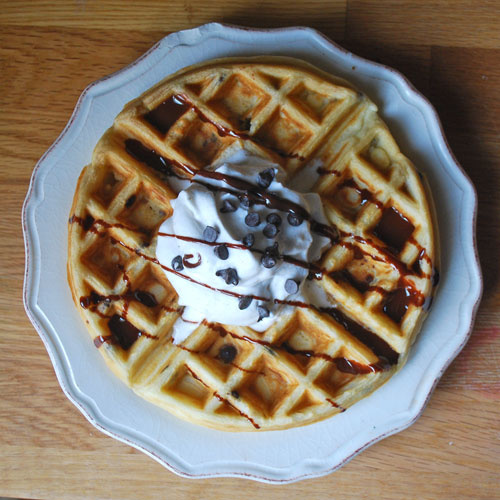 The Halloween candy is long gone now, but these delightful waffles can be served up on your breakfast plates any day of the year. Top them off with some fresh cocoa whipped cream, a drizzle of chocolate sauce, and you have dessert… I mean breakfast. Yummy!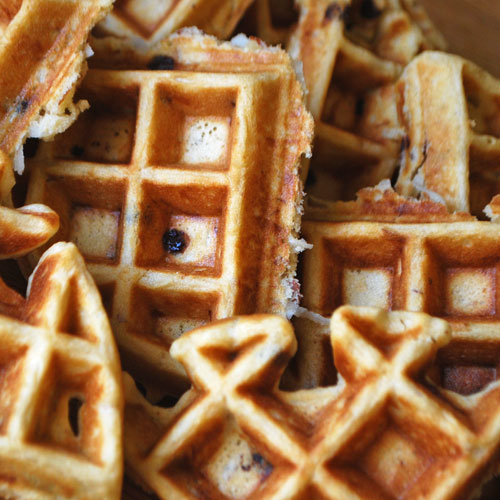 I remember as a kid, on the special occasions when we would go out for breakfast I would always order the chocolate chip pancakes (as did my siblings). They were served with chocolate syrup! Oh my, is there anything greater than chocolate for breakfast? Now that I'm a mom, I love seeing my little ones face when I serve a treat like this for breakfast. Don't get me wrong, I'm big on healthy eating, but every so often you have to spoil them, and yourself, just a little.
Note: I tried making these with coconut milk, but it didn't add anything to the flavor. Flaked coconut is the best way to go. These are sweet enough on their own but for an extra treat, beat heavy whipping cream with the wire attachment until soft peaks form. Add a little sugar, cinnamon sugar, or cocoa powder to taste.
Recipe: Almond Joy Waffles
Ingredients
2 eggs
2 cups all-purpose flour
1 3/4 cup milk
1/2 cup vegetable oil
1/2 tsp almond extract
1 tablespoon white sugar
4 teaspoons baking powder
1/4 teaspoon salt
small handful of sweetened flaked coconut
1/4 cup mini chocolate chips
small handful of sliced almonds
Instructions
Beat eggs, add baking powder.
Mix everything up to the salt.
When a nice batter forms, stir in chocolate chips and almonds, coconut.
Spray your waffle ion with cooking spray for every waffle.. make your waffles.
Preparation time: 10 minute(s)
Cooking time: 15 minute(s)
Number of servings (yield): 6