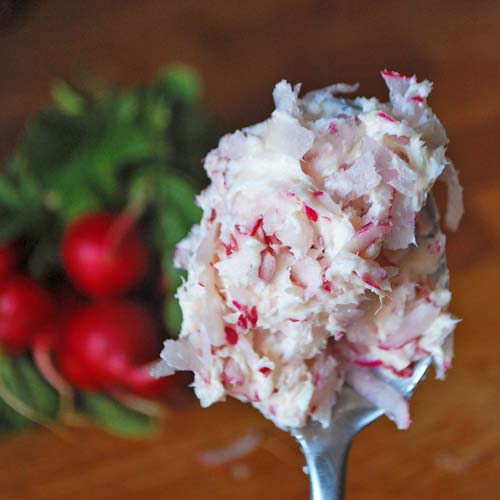 On a recent trip back to the East Coast, my mom slipped some old recipes into my diaper bag, some reading material for the flight home. One of those recipes was for radish butter… and the photo looked so pretty. I couldn't decipher the recipe source, but after a quick google search I found radish butter to be (in different variations), all over the web. How is it I had never had or heard of this before? Have you ever had radish butter? It was fabulous. Very fresh, and simple.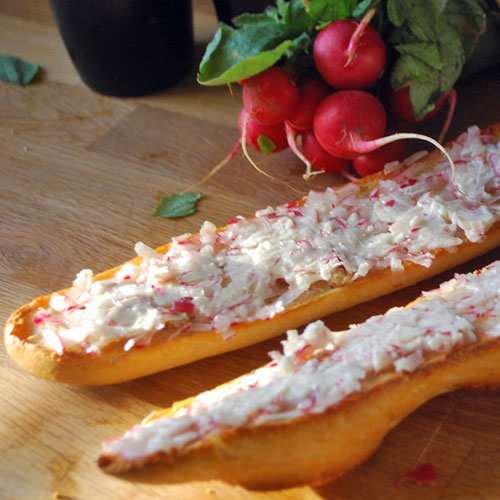 Radishes have to be the prettiest of all vegetables, don't you think? This was so easy, very yummy, and a very quick appetizer to put together. I wanted to blog about it because I think it looks festive, and something easy to put out for guests while you are working on the big stuff in the kitchen. It's also a nice alternative to bread smothered in cheese, a little lighter.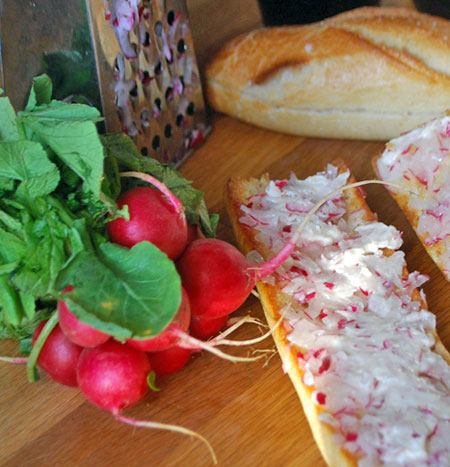 Make your radish butter ahead of time. When you are ready to serve, just pop the baguette into the broiler for 2-3 minutes, until toasty. Then smother on the radish butter and serve.
Recipe: Radish Butter
Ingredients
2 bunches of radishes
1/2 cup unsalted butter (1 stick, room temperature)
salt and pepper
Instructions
Clean the radishes.
Grate the radishes (carefully!).
Pat dry the grated radish on a paper towel.
Mix the grated radish with the butter.
Season with salt and pepper.
Halve your baguette, or slice them into individual portions diagonally. Broil for 2-3 minutes.
Smother on the radish butter. Serve.
Variations
lemon juice
chopped herbs (rosemary/dill/parsley)
add a topping like sunflower seeds
Preparation time: 5 minute(s)
Cooking time: 3 minute(s)
Number of servings (yield): 8