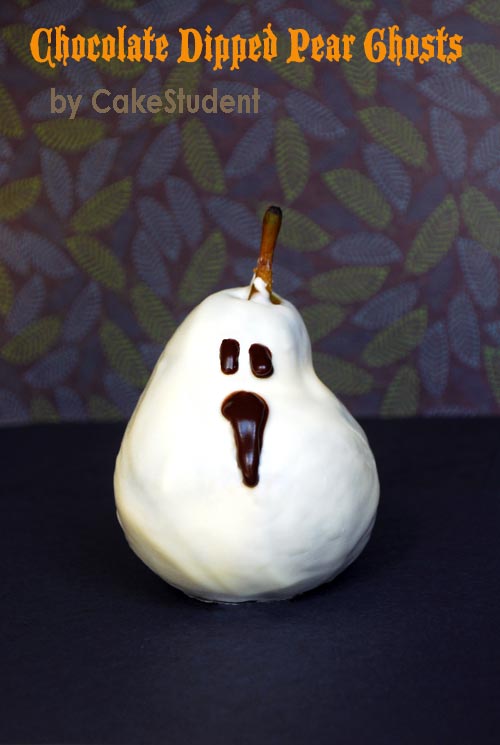 I couldn't not post a tasty treat when Halloween is right around the corner.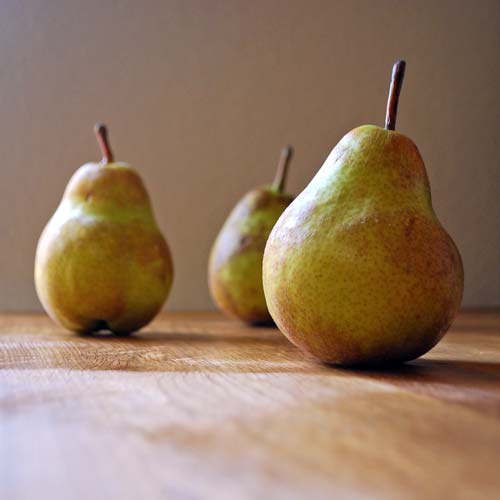 I picked pears (as opposed to apples) because their shape is so perfectly ghost like. Easy to make, and not all that terribly bad for you.. I mean they are fruit! They served up nicely as a fun dessert for my little family.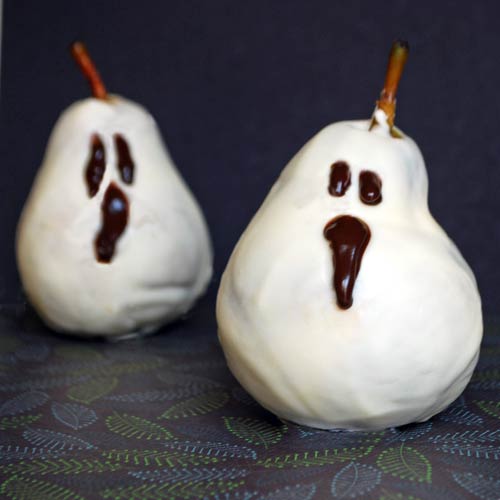 Tips: Plan ahead, pears take a few days to ripen. You can quicken the process by leaving them in a paper bag over night, or lay them next to apples. Apples emit a gas that help ripen other fruit! Also, pick pears that have a good stem so you can dip them more easily.
Best wishes for a safe and spooky fun Halloween!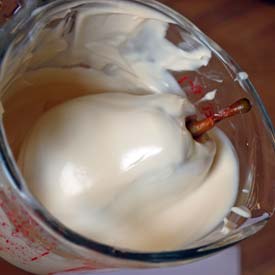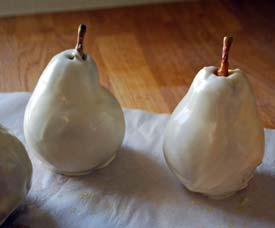 Recipe: Ghostly Pears
Summary: Chocolate dipped pears for Halloween
Ingredients
3 ripe pears, washed
2 cups white chocolate
small amount of dark chocolate
ziploc bag (for piping face)
Instructions
Gently wash the wax off your pears, dry. Place in Refrigerator for about an hour.
Lay out a sheet of wax paper or parchment paper, spray with cooking spray. Place it on a cutting board or plate if you want to refrigerate your dipped pears.
Melt white chocolate in microwave according to package instructions (10 seconds at a time and stir). A pyrex glass measuring cup works nicely for this.
Dip pears to coat, rotate them for a smooth coat. If the chocolate is too thick, melt longer or add a touch of vegetable oil, melt/stir again.
Lay on wax paper. Refrigerate.
Melt dark chocolate in microwave. Place into a small ziploc bag. Snip the corner off. Use to pipe on the ghost face. Set in refrigerator again until ready to serve.
Enjoy!
Preparation time: 1 hour(s)
Cooking time: 15 minute(s)
Number of servings (yield): 3