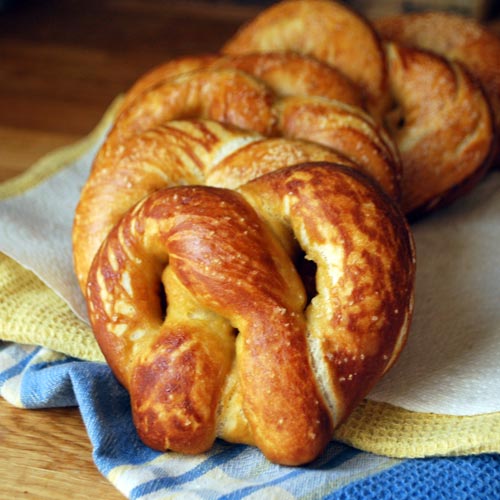 Ok, its well into October.. time to make some pretzels.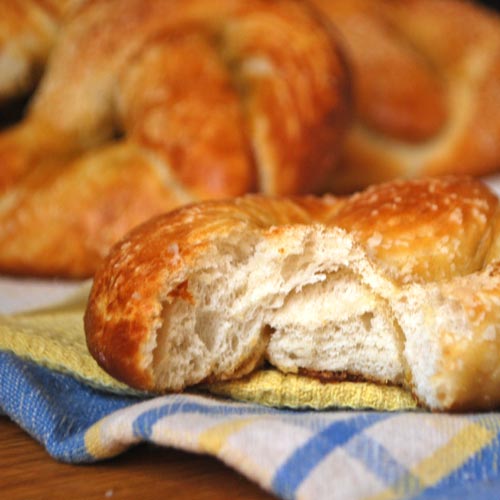 Last week I went to Alton Brown's Good Eats 3 book signing! Alton spoke for a good hour to a store packed with fans and then signed hundred of books. He was a little goofy, just like in Good Eats, and had everyone laughing in no time. The talk covered everything from tips on cooking, his personal and professional life, opinions on Italian motorcycles, to obesity in America and his own battle with a diet coke addiction.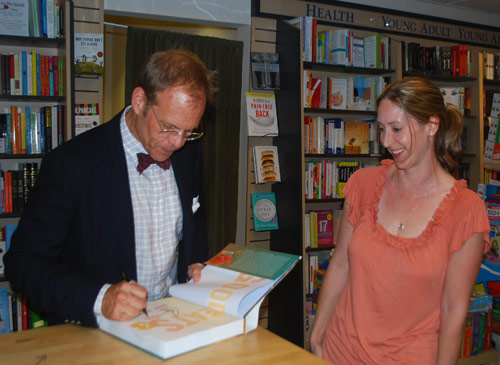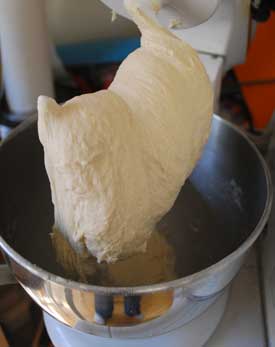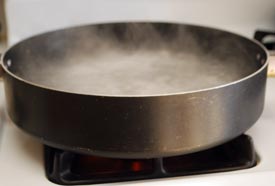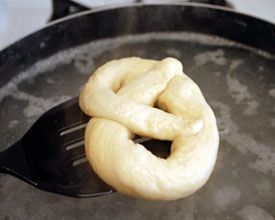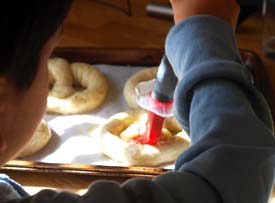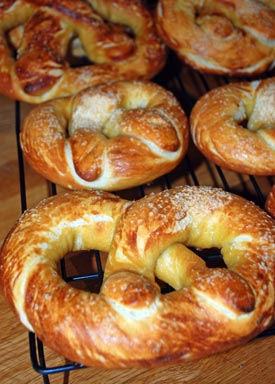 Normally I'm more of an observer, but when question and answer time came I couldn't resist the opportunity. So I shot up my hand and wouldn't you know? Alton Brown called on me. Whoa! So, my "conversation" with Alton Brown went something like this:
me: "What is your favorite recipe from the book?"
Alton: "This cookbook? Good Eats 3?"
me: "Yes" (doh! How could I mess up a question?! doh!)
Alton: "Crockpot Lasagna, hands down. The best lasagna you will ever have… take it to a gathering and everyone will devour it in seconds. Mind you this is not for those of you on a diet. Its seriously addictive.. but don't make it without the goats milk powder, thats the key to everything meshing just right… Thanks for asking that question."
Yep, thats right, he thanked me. After that I was determined to blog about the crockpot lasagna, but alas, I just haven't gotten around to finding goats milk powder. Maybe one day soon, sounds like the perfect football Sunday meal. But, what I did have in the pantry was everything I needed for these awesome pretzels. They came out perfect.. PERFECT… hard to mess these babys up. The best part of making these pretzels was the misty swirling smoky pot of boiling water with baking soda. I felt like my kitchen turned into a laboratory and I was a mad scientist. Very cool. This was serious fun in the kitchen, and serious good eats.
Recipe: Soft Pretzels
Summary: adapted from Alton Brown's Good Eats 3
Ingredients
1 1/2 cup warm water
1 TBSP sugar
2 tsp kosher salt
1 envelope active dry yeast
22 ounces all-purpose flour (4 1/2 cups) but I used more as needed until dough was right consistency)
2 ounces unsalted butter melted
vegetable oil for bowl and pan
10 cups water
2/3 cup baking soda
1 egg yolk whisked with splash of water (egg wash)
pretzel salt
Instructions
In a stand mixer, combine the warm water, sugar, salt. Sprinkle the yeast on top, wait 5 minutes to foam.
Add flour and butter and mix on low speed with dough hook, then up speed to medium for 5 minutes. Dough should be sticking on the hook and pulled away from the sides.
Remove the dough from the bowl. Oil the bowl. Return the dough to the bowl and cover with plastic wrap. Let it set for an hour to rise (double its size) in a warm place.
Heat oven to 450F. Line 2 baking sheets with parchment paper and lightly brush the paper with oil.
Bring the 10 cups of water and the baking soda to a boil in a large wide and shallow skillet or roasting pan.
Meanwhile, place your dough on an oiled surface. Cut into 8 pieces. Roll out into a rope and shape your pretzels. Place them on your baking sheet.
Drop a pretzel gently into your boiling water. Wait 30 seconds. Pull it out with a wide flat spatula. Place back onto baking sheet. Repeat.
When all pretzels are boiled, brush them with egg and salt them.
Bake in preheated oven for 13 minutes. Cool on a cookie rack. Enjoy!
Preparation time: 1 hour(s) 15 minute(s)
Cooking time: 30 minute(s)
Number of servings (yield): 8