It would appear that you are never to old to play with your food.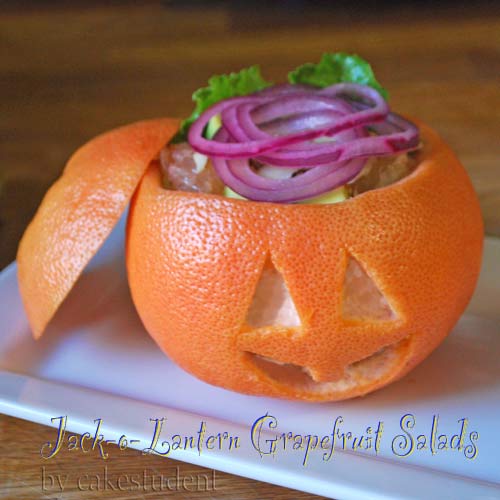 I don't know what possessed me to carve a grapefruit, but I did, and something magical happened. My 3 year old ate ALL his salad.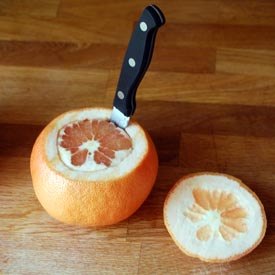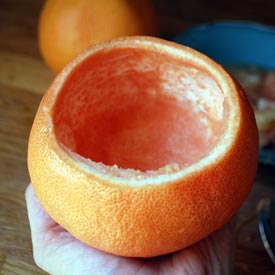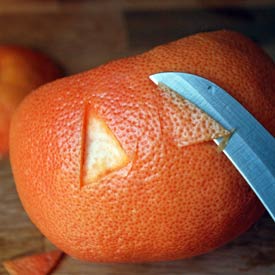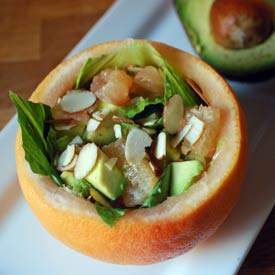 I made these jack-o-lantern grapefruits to hold an avocado grapefruit onion salad with creamy onion dressing, a salad recipe posted by La Fuiji Mama for the October Kitchen Play menu. This months' sponsor is the National Onion Association. The featured salad entree was a beautiful combination of flavors… the citric grapefruit gave a big punch, the creamy avocado added to the texture, and the onions are pickled, they were slightly sweetened with honey which really added to the salad.
Needless to say, I had no idea what to expect from carving a grapefruit, but it was a good choice because grapefruits have quite a bit of rind. This makes it easier to carve out shapes and still keep a layer of rind. As you can see, one of the jack-o-lanterns came out great with the rind, the other I pierced too deeply and so I ended up cutting it all out. I used one large piece of lettuce to sort of hide the mistake! Ah well… what can I say, I'm still a newbie grapefruit carver.
Recipe: Avocado Grapefruit Onion Salad with Creamy Onion Dressing
Ingredients
Pickled Red Onions:
1/2 thinly sliced red onion
1/2 cup rice wine vinegar
1/2 cup warm water
1 TBSP honey
2 TBSP kosher salt
Sweet Creamy Onion Dressing:
1/3 cup honey
1 1/2 tsp ground mustard
1/4 tsp salt
2 TBSP rice wine vinegar
1 TBSP chopped white onion
1/2 cup vegetable oil
Salad:
1/4 cup thinly sliced almonds
1 head romaine lettuce, chopped
2 large grapefruit (sectioned if not doing jack-o-lantern)
2 avocados, peeled, pitted, and diced
Instructions
Make the pickled red onions by whisking together all the ingredients (but the onions). Add the onions, fill with additional water if needed to submerge. Cover and sit for at least 1 hour.
Make the creamy onion dressing: Process all of the ingredients in a food processor until smooth. Store the dressing in the refrigerator.
If making the jack-o-lantern, cut off the top. Cut out a large block of the fruit by using a paring knife and then a large spoon. From the block of fruit, slice out the sections to use in the salad and store in the refrigerator until ready to assemble the salad. Use the spoon to scrape the sides clean. Use your knife to cut out shapes.
Lightly toast your almonds in a skillet over medium heat. Stir frequently to make sure they don't burn. Remove from heat once golden and fragrant.
Assemble your salad. Serve and enjoy!
Preparation time: 1 hour(s) 30 minute(s)
Number of servings (yield): 2