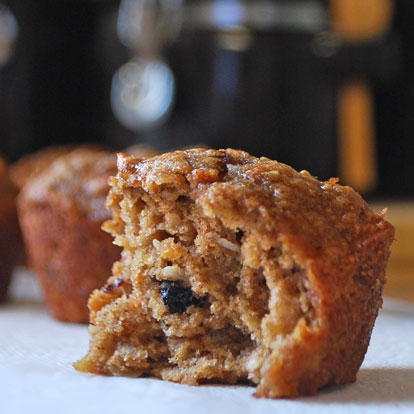 Itching to make some muffins? These ones live up to their name.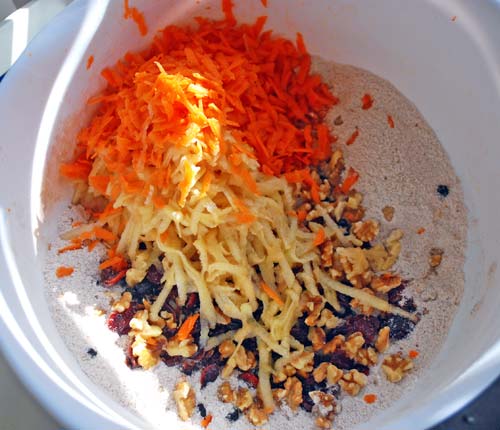 Muffins, the perfect grab and eat on the go breakfast treat. These will give you the energy you need and they taste… glorious.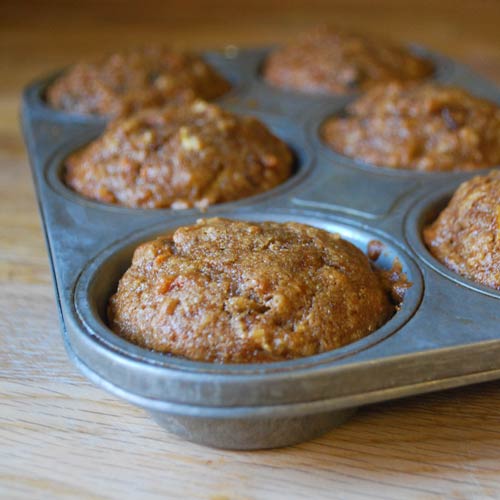 Usually I'm not so big on whole wheat flour baked goods, they always taste dry to me… but not these, probably due to the mix of flours. These are light and moist and delicious. If you have too many, they freeze well and come in handy on those mornings you have no time to sit down and eat. Just warm them in the microwave for a few seconds and wallah… breakfast is done.
I have made these with different varieties of dried fruits, various nuts, and with/without coconut. I think it would do well with 1 carrot and 1 grated zucchini if you want to add more of a vegetable variety. The original recipe calls for 2 TBSP of toasted wheat germ sprinkled on top before baking, but I haven't gotten around to finding that at the grocery store… maybe one day.
Ingredients
3 eggs
1/2 cup apple butter
1/4 cup vegetable oil
1 tablespoon vanilla extract
1 1/2 cups all-purpose flour
1/2 cup whole wheat flour
1 1/4 cups white sugar
1 tablespoon ground cinnamon
2 teaspoons baking powder
1/2 teaspoon baking soda
1/2 teaspoon salt
2 cups grated carrots
1 apple – peeled, grated
1 cup raisins (or dried fruit like cherries or cranberries)
2 tablespoons chopped walnuts
1/4 cup flaked coconut (optional)
Instructions
Preheat oven to 375 F. Spray muffin tins with cooking spray.
In a medium bowl, whisk together eggs, apple butter, oil and vanilla.
In a large bowl, stir together flours, sugar, cinnamon, baking powder, baking soda and salt. Stir the carrots, apples, raisins, walnuts and coconut into the flour mixture to coat.
Combine both mixtures in the larger bowl.
Spoon into the muffin tins, filling to about 3/4 full.
Bake for 15 to 20 minutes, or until golden and spring back when lightly pressed.
Preparation time: 15 minute(s)
Cooking time: 20 minute(s)
Number of servings (yield): 18