Cayenne pepper, pumpkin, and chocolate. Woooohooo… these brownies are on fire!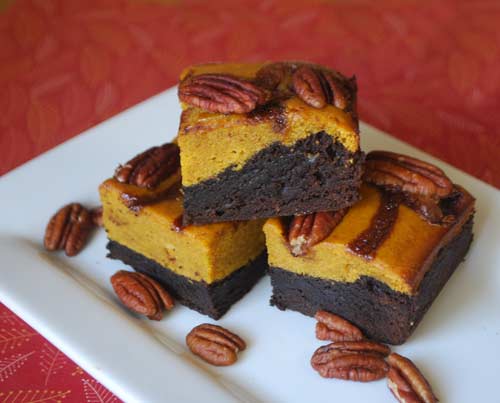 If you haven't noticed… I finally got around to building a recipe index for Cake Student (see Recipes tab above!). Finally, an easier way to search this crazy site. After the directory was built, I was shocked to realize that brownies have not yet made it to the big screen. So, I just had to post an unusual brownie recipe, something I never tried before. Hot cayenne pepper and chocolate, I have heard that particular marriage of ingredients is pretty good (same goes for bacon brownies) but these caught my eye. Martha Stewart 2004.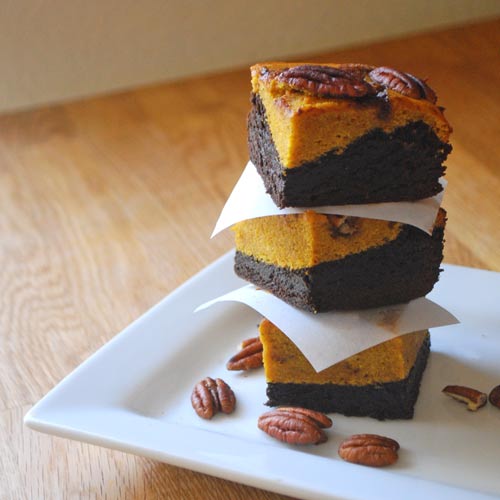 Like every other Martha recipe I have tried… this one has a rather long list of ingredients, seemed intimidating, but turned out fabulous. The woman knows her stuff.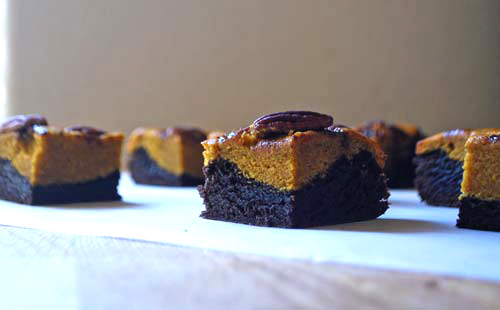 I considered melting the chocolate in the microwave, but glad I didn't because in the end having the chocolate on the stove top staying warm and smooth was essential. Once the batter in the mixer is whipped up, it gets thick pretty quickly so you don't have time to mess around with the microwave. I used a wide heatproof bowl that fit perfectly on top of a pot. The water level was low (not touching the bowl) and I kept it at a low simmer. This melted the chocolate and butter slowly and kept it smooth while I worked with the other ingredients.
These brownies were so smoooooooooth, kind of cake like, very moist, loved the flavor! The pepper could easily be omitted if your not the rebel type. Definitely wait for these babies to cool down before eating… they get better the longer they sit. The next morning they were outstanding.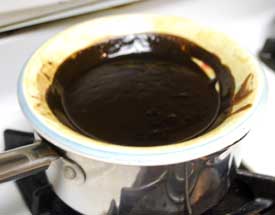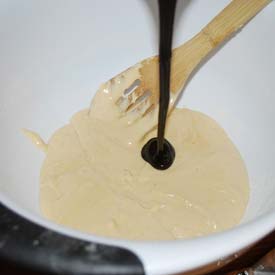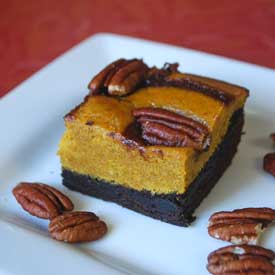 Recipe: Pumpkin Pepper Brownies
Summary: adapted from Martha Stewart's Pumpkin Swirl Brownies
Ingredients
1/2 cup (1 stick) unsalted butter
6 ounces bittersweet bakers chocolate
2 cups all-purpose flour
1 tsp baking powder
1/4 tsp cayenne pepper
1/2 tsp salt
1 3/4 cups sugar
4 large eggs
1 Tbsp pure vanilla extract
1 1/4 cups solid-pack pumpkin
1/4 cup vegetable oil
1 tsp ground cinnamon
1/4 tsp ground nutmeg
1/2 cup chopped nuts
Instructions
Preheat oven to 350 degrees. Butter a 9-inch square baking pan and line its bottom with parchment paper. Then butter the parchment paper.
Melt the chocolate and the butter in a heatproof bowl over a pot of simmering water. Stir occasionally.
In a large bowl, whisk together the flour, baking powder, cayenne, and salt.
In an electric mixer with paddle attachment, beat the sugar, eggs, and vanilla until fluffy (3 minutes). Then add the flour mixture and beat until well combined.
Divide batter between two medium bowls. Stir chocolate mixture into one bowl. In the other bowl, stir in pumpkin, oil, cinnamon, and nutmeg.
Assemble the brownies in layers (chocolate on bottom of pan) and either swirl to create a marble effect or keep in layers. Work quickly… batters get thick fast.
Sprinkle with nuts.
Bake 40 to 45 minutes. Let cool completely.
Preparation time: 20 minute(s)
Cooking time: 45 minute(s)
Number of servings (yield): 16