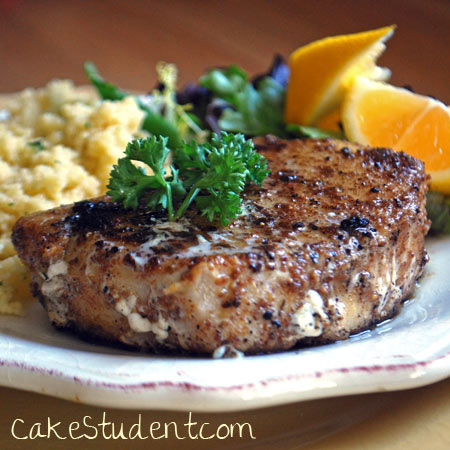 This is my first experience with Chilean sea bass and I was utterly shocked by the flavor and texture. It is not at all "fishy", but rather it has an intense buttery and rich taste to it. Definitely a steak. My husband agrees with me, it is likely the best fish we have ever had.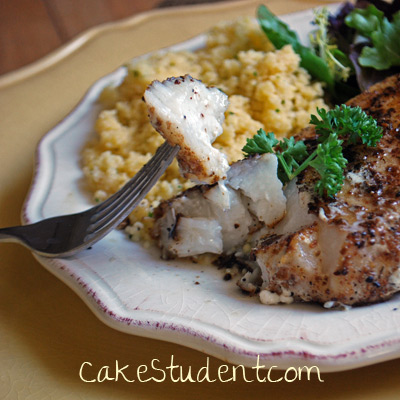 I did a little research before choosing a recipe and simliar to the filet mignon I made in December, I chose to do a pan sear with no marinading. This gives the fish a crispy crust and doesn't mask its natural flavor with marinade.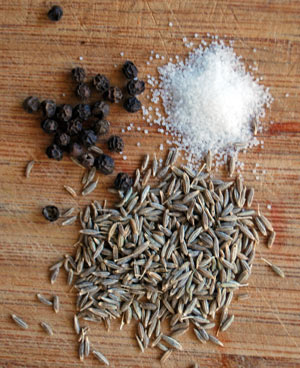 Toasting and freshly grinding the cumin seeds will bring out a powerful aroma and flavor, so much better than a pre-bought ground cumin.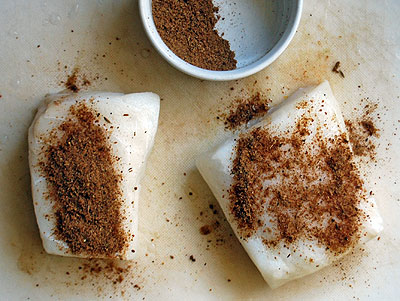 Once you grind the seed, it's oil is released and the spice is at its best. Rub the spice into the steaks and you are ready to get cookin!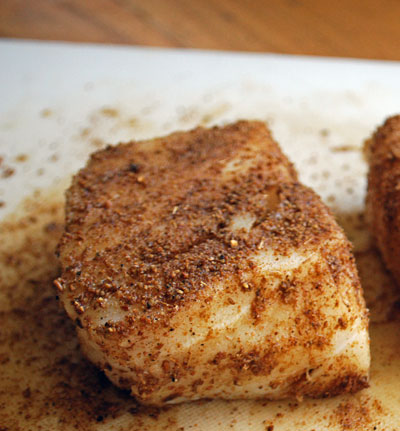 This dinner took me about 20 minutes to make. A beautiful, simple and impressive meal for a special evening.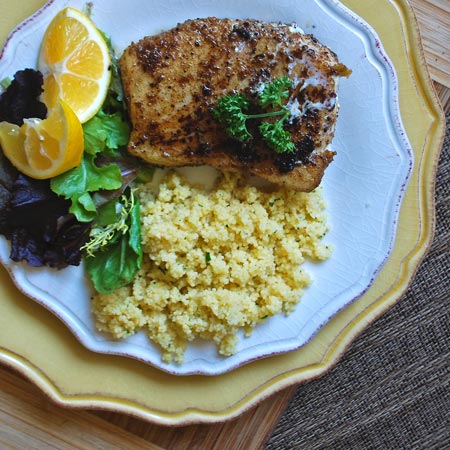 I think everyone wants to be responsible when choosing the type of seafood you eat for sustainability and health reasons, that is why it was reassuring to me to see the statement offered on the Certified Steak and Seafood Company's website.
"CSS is keenly aware of maintaining the sustainability of Chilean Sea Bass, offering only fish harvested and processed under the close inspection of the National Marine Fishery Service."
Their seafood is closely monitored and inspected for sustainability and third party tested to ensure that it's unadulterated and free from contaminates. CSS is offering a great discount now if you'd like to give them a try.

Cumin Crusted Chilean Sea Bass
adapted from Cooking Light December 2001. Note- If you don't have a tool to grind the spices, I would suggest using ground cumin and ground black pepper as substitutes. Use 1 tablespoon of the ground cumin and ¼ teaspoon of ground pepper. Just know that toasting the cumin seed really brings out the flavor!
Ingredients
1 tablespoon cumin seeds
½ teaspoon salt
20 black peppercorns
2 (8 ounce) Chilean sea bass steaks
1 tablespoon olive oil
a few sprigs of fresh parsley
1 lemon, sliced into wedges
Instructions
Preheat the oven to 375F.
To make the spice rub, toast the cumin seeds in a skillet over medium-high heat for a few minutes, stir constantly and be careful not to burn. Remove from heat.
Grind the toasted cumin seeds, salt and peppercorns with either a coffee or spice grinder.
Rub the sea bass steaks with the spice rub.
In an oven safe skillet, heat the oil over medium-high heat. Pan fry the steaks for 2 minutes on each side. Transfer the whole pan to the oven for 5-6 minutes or until easily flaked with a fork.
Garnish with parsley and lemon.
Note – This sponsorship is brought to you by Certified Steak & Seafood Company whom we have partnered with for this promotion. However, all opinions about the product are all my own!About the Sponsor:Our commitment to our customers is simple: Offer the highest quality products at the best price and back it with a 100% guarantee. We source directly with no 'middle man' making our supply chain the shortest in the industry. This allows us to maintain the highest quality standards all the way to your plate. On top of this, we sample all products at the moment of final packaging and have a world-renowned laboratory test for various types of adulteration or contamination. This ensures that the food you purchase from us is pure and safe.Certified Steak and Seafood Company was formed by the three Frisch boys, Mark, Adam, and Steven; all of whom thought that everyone should be able to buy the highest quality steaks and seafood direct. The brothers experience comes from a three generation family owned wholesale company that is one of the largest seafood importers in America.
They have vast experience in sourcing and selling high quality seafood and meat products to the commercial trade — and bring you the same grade of products fine restaurants, resorts, hotels, and high-end retail stores demand – and at a direct price that gives you tremendous value for every purchase.
Visit the Certified Steak & Seafood website! Use coupon FBR125D to get $25 off your order.