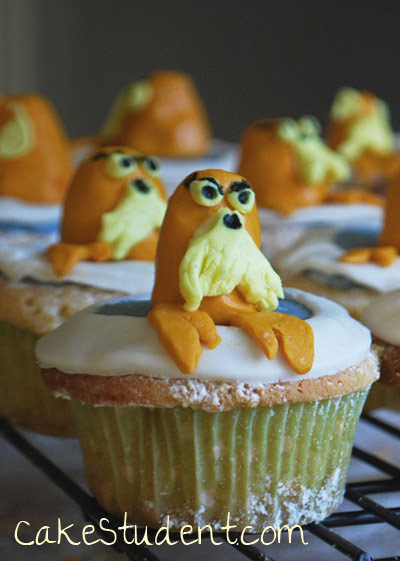 March 1, 2013 is Read Across America Day and kids all across the country will be fueling their imaginations with Dr. Seuss books (and other beloved children's books).


Our favorite book is Oh, The Thinks You Can Think, a book about using your imagination. Our copy is extremely well loved and worn. This particular page about Peter the Postman (who every day crosses the ice and on Saturday's twice!) is one of our favorites. My son has decided that Peter delivers the mail to the Jaboos living in the dark town (featured in the page before). Poor Peter, not only does he have to deliver the mail to a bleak and disma looking town, he has to cross dangerous ice full of scary looking walruses to get there!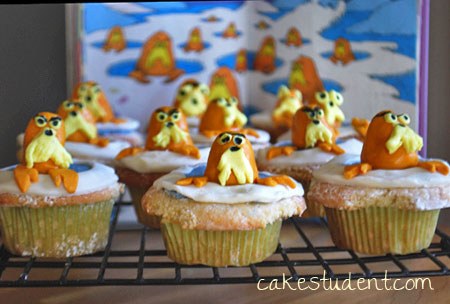 This frosting is not fondant, its buttercream! A recipe by Cheryl @ Sew Can Do.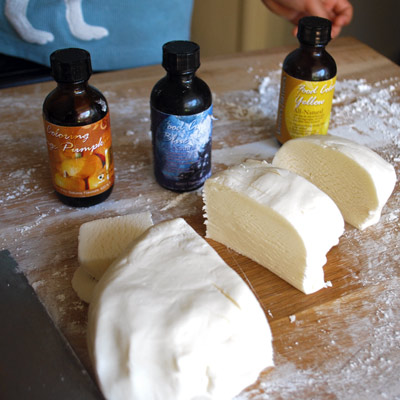 It was my first time making it, and I found the frosting to be slightly more difficult to work with than fondant, but overall I was really happy with the taste and the results. Cheryl uses coloring gel, but I wanted to try the food coloring drops from Nature's Flavors. These are all natural and the colors are really vibrant.
My 4 year old son was more than willing to help me with this project. I think his walruses came out looking particularly scary!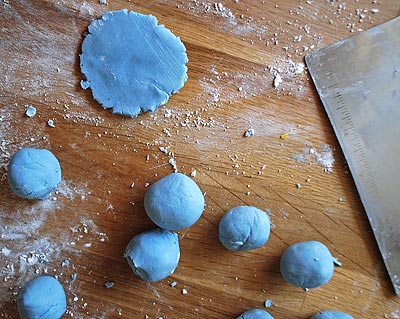 To make the blue water, I rolled out 12 balls of about equal size, then we squashed them using the flat side of our chopper scraper tool. Gently peeled them off and laid them on the cupcakes.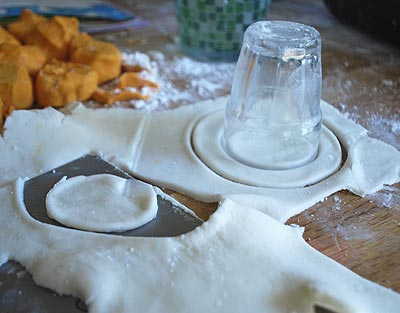 The ice rings were cut using two different sized inverted glasses. One is about the size of a shot glass. I lifted them using the scraper and laid them around the water on the cupcakes.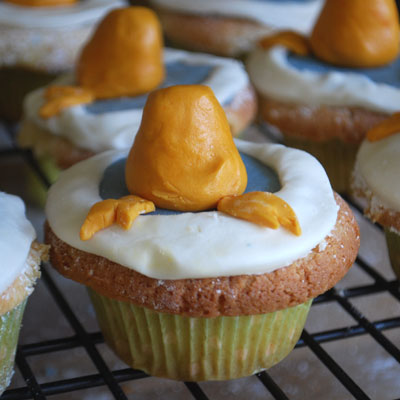 Next, we made 12 orange balls and using our hands, rolled and molded them into various sized walruses.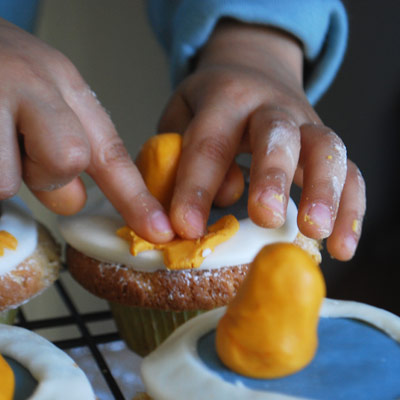 Turns out, my son is an expert flipper maker. Who knew?
Here is one of the more scary walruses. (Peter tries to stay away from this guy.)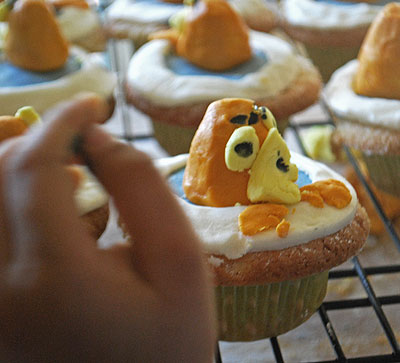 To make the mustaches, I just cut out yellow frosting triangles with a small knife, then made them look shaggy with more cutting.
I used an edible marker to color in the facial expressions. As an alternative, you could try to carefully paint the eyes, eyebrows and nose with a thick paintbrush and dark food coloring.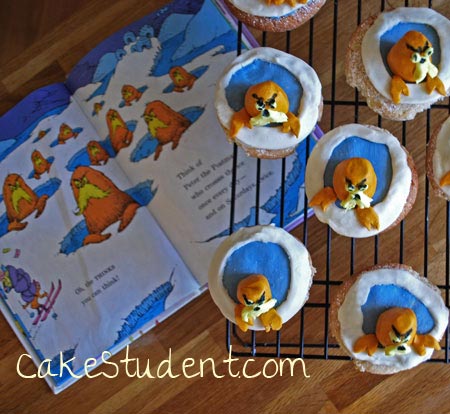 Oh my, this is one dangerous pod of giant walruses!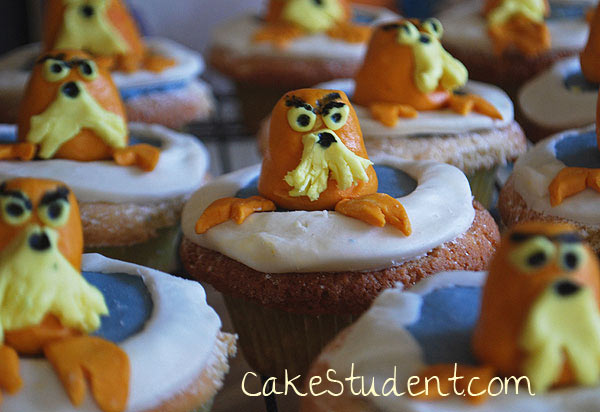 Head on over to your local library and see what kind of events they have planned. Enjoy those books!
(More Dr. Seuss Cake Student recipes.)
Buttercream Sculptable Frosting
Adapted from the recipe by Cheryl @ Sew Can Do. This is a tasty alternative to fondant.
Ingredients
½ cup unsalted butter, softened to room temperature
1 tablespoon heavy cream
¼ teaspoon real vanilla extract
3-4 cups confectioner's (powdered) sugar
Food coloring
Instructions
Beat the butter and cream together in a mixing bowl using a paddle attachment. Add the vanilla and slowly add 3 cups of confectioner sugar.
Now you need to use your judgement on the consistency, stop the mixer and carefully take a little frosting out to feel with your hands. If you want it thicker then add more sugar.
!To make the colors for this particular Dr. Seuss cupcake project:
Separate the into 4 sections. Color 3 of them with food coloring (orange, yellow, and blue). If the food coloring makes the frosting wetter, simply add more confectioner sugar.
Ultimately, I used 4 cups of sugar total, but I also used food coloring drops which added more liquid. If you are using the food coloring gels then you may not need all the sugar.