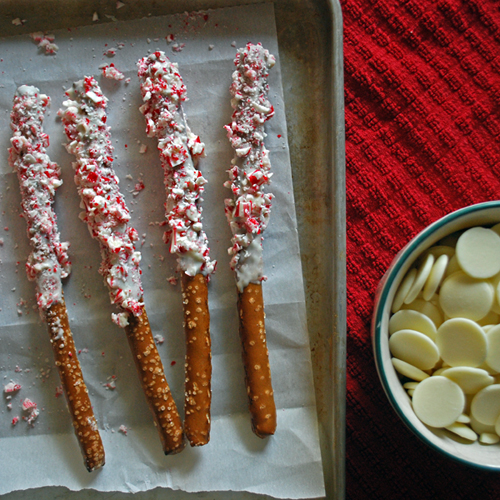 Easy, delicious, home made teacher gifts. The kids can get a little messy and the pretzel rods still turn out beautiful. The combination of peppermint, salt pretzel, and chocolate is insanely good, they will be a jolly good hit.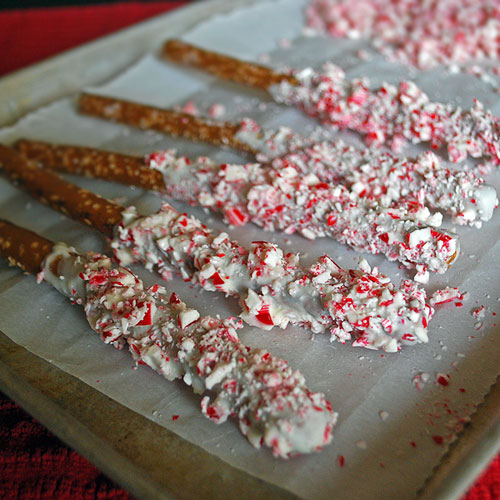 I really don't like working with melted chocolate, but my mom recently sent me a bag of Van Leer white confectionary snaps (white melting chocolates) that she received after attending a chocolate academy course. My mom, a professional cake decorator of 30+ years, knows her stuff. These are definitely the easiest chocolates to melt and work with. The ingredients are simple and short, and the white chocolate tastes really good, not at all like the melting candy discs you get at the craft store. I'm not sure how the average person might buy them, but here is the link to learn more: Van Leer Chocolate. I think you might have to go to a cake specialty store to get them.
What to do with the leftover candy bits clumped in white chocolate? Make Chocolate Peppermint Cookies for Santa!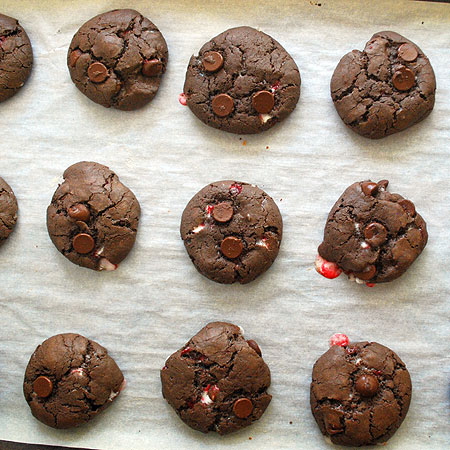 Chocolate Candy Cane Pretzels
Ingredients
White Chocolate
Pretzel Rods
Candy Canes, crushed (or use candy cane sprinkles if you can find them)
Instructions
Melt the chocolate in the small but deep microwave safe container ( I like using my pyrex glass measuring cup) per directions.
Coat a pretzel rod in the melted chocolate
Dip into crushed candy cane pieces.
Lay onto wax paper or parchment paper to dry.