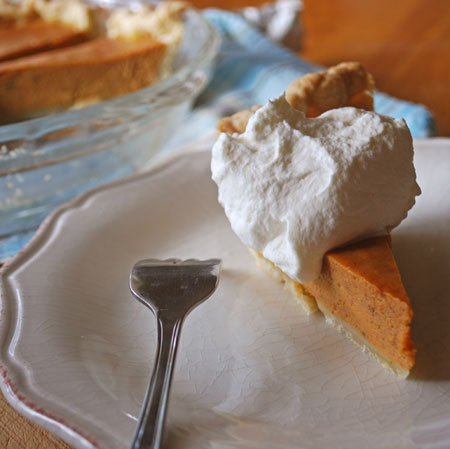 The sweetest ending to any holiday dinner? A beautiful piece of home made pie.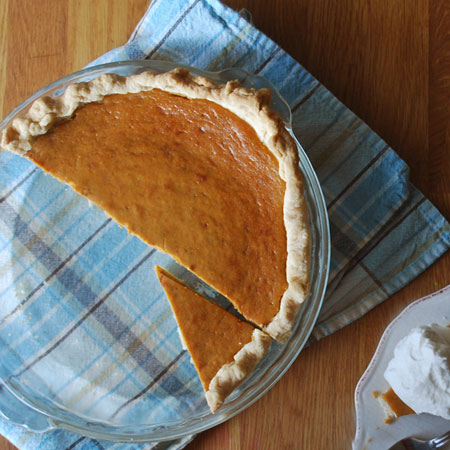 Pumpkin is the one type of pie I normally avoid making from scratch. There was always something wrong. The filling that lost its form on the plate. The crust crumbling into chunks. Impossible to slice evenly because of the giant friggin crater running down the middle of it.
Well no more! This is a crack-free, fool proof, easy to make pumpkin pie recipe!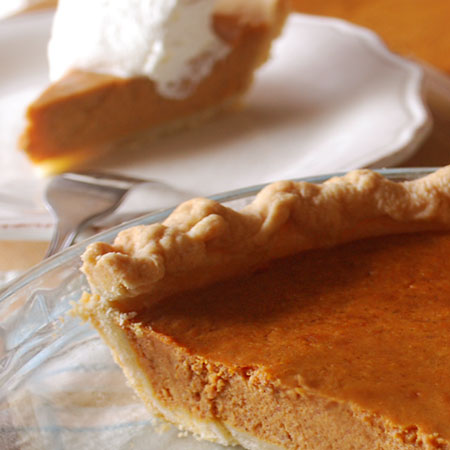 Flaky and easy to slice crust, creamy smooth pumpkin filling with just the right amount of spice.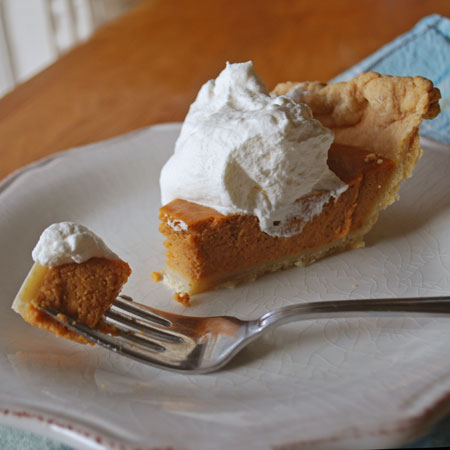 This pie can be baked a day or two ahead and refrigerated to make your big holiday feast easier to manage. Serve it up with some freshly whipped cream, this pie is absolutely irresistible!

Perfect Crack-free Pumpkin Pie
Ingredients
Pie Filling
1 (15 oz) can pumpkin puree
3 egg yolks
1 large egg
1 (14 oz) can sweetened condensed milk
1 teaspoon ground cinnamon
½ teaspoon ground ginger
½ teaspoon salt
¼ teaspoon nutmeg
⅛ teaspoon Chinese 5-spice powder
PIE CRUST (one 9")
1¼ cup all-purpose flour
½ cup unsalted butter (1 stick, cold)
¼ teaspoon salt
¼ cup ice water
1½ teaspoons cider vinegar
Instructions
Pie Crust
Stir the flour and salt in a mixing bowl. Slice the butter into bits and add to the flour mixture. Use a fork to smush it all together until its crumbly.
Stir in the vinegar and water.
Now use your hand to really knead the dough until it all combines. Wrap it up in plastic wrap and keep in the refrigerator for an hour.
Pie Filling
Whisk all the ingredient together. Note- crack your eggs into a separate bowl first to make sure you don't have shells in the pie!
Roll out your pie dough between plastic wrap. Gently lay it into a 9" greased pie dish. Pour in the filling. Use your finger to gently pop any bubbles.
Bake at 425F for 15 minutes. Reduce the heat to 350, and bake an additional 35-40 minutes.