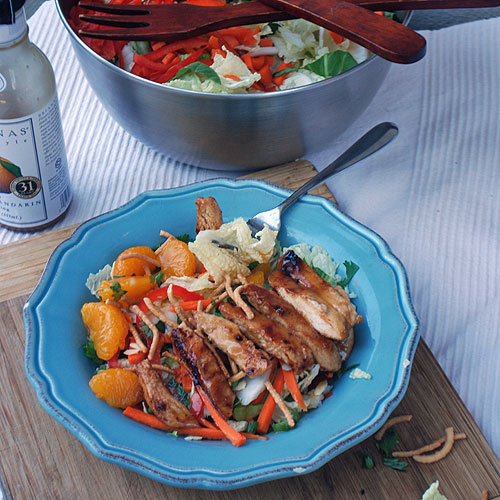 In our "before kid's" era, my husband and I lived in sunny San Diego and would delight in such luxuries as eating out most days of the week. To be fair, we worked really long days programming away on our computers and were too exhausted (and at the time lacked the skills) to cook. So, one of our cherished restaurants, Sammy's Woodfired Pizza, had some awesome salads. My personal favorite was the Chinese Chicken salad.
Fast forward a few years, a few more pounds and a few kids later… we no longer live near Sammy's. And though I wouldn't trade those accumulated years or the kids for anything, I am more than happy to say tah-tah to those few extra pounds. Hence, salad is making a daily appearance on our table.

This may not be exactly like Sammy's salad, but it's a close to perfect recreation. Fresh and packed with flavor, a complete meal on its own. It makes a lot, but I find this lettuce will keep it's crisp for the next day's lunch or dinner.
Special ingredients: Napa Cabbage & Bok Choy.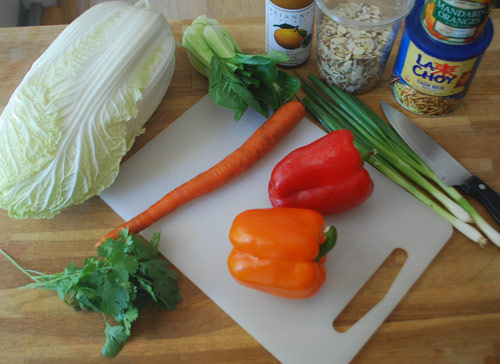 To chop Napa Cabbage & Bok Choy, chop off the bottom and discard. For the leaves, you can choose to keep the white stems (that's where all the crunch is) or if you prefer the salad to be less crunchy, trim some of the white stems by cutting out triangles. I like to trim the larger, thicker leaves.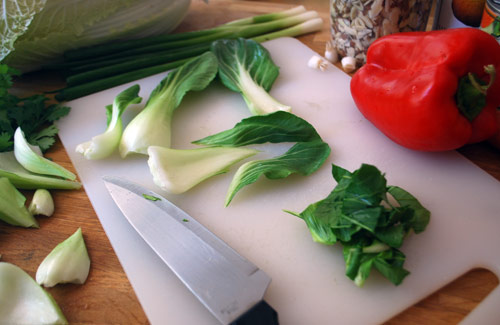 The star ingredient: Our very own homegrown Cilantro! My son happily picked a bunch from our tiny garden.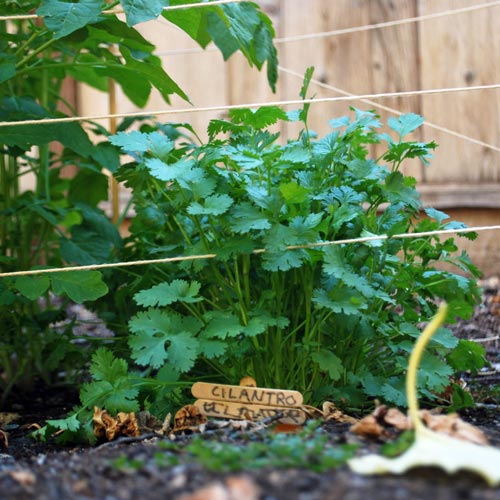 Chinese Chicken Salad
Copy cat recipe of Sammy's Woodfired Pizza "Chinese Chicken Salad".
Ingredients
1 Napa cabbage, chopped
2 Bok choy, chopped
1 or 2 Carrots, julienned or grated
1 or 2 Bell peppers (red, yellow or orange), sliced
2 Tablespoons Sesame seeds
1 cup Cilantro, chopped
2 Green Onions, chopped
Chow Mein Crispy noodles
1 (11oz) can Mandarin oranges, drained
Brianna's Ginger Mandarin Salad Dressing (or your favorite Soy Asian Dressing)
Grilled chicken breast, sliced
Instructions
Toss all ingredients, serve the chicken (hot or cold) on top.