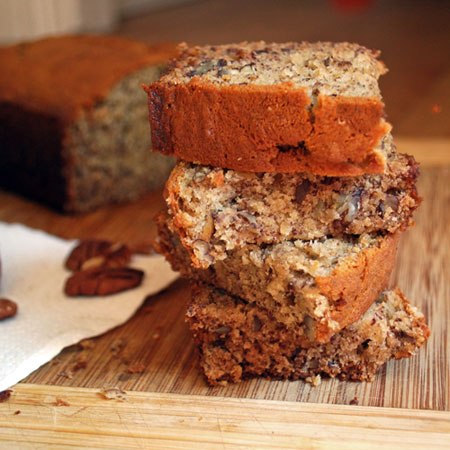 If you're anything like me, when you see those ugly looking softened black bananas in the bottom of the fruit bowl you actually get excited because it's the only excuse you need to do a little baking. Get the kids involved with this one… my boys love to mash the bananas (heck, they love to mash everything) and it keeps them busy while I get the batter ready.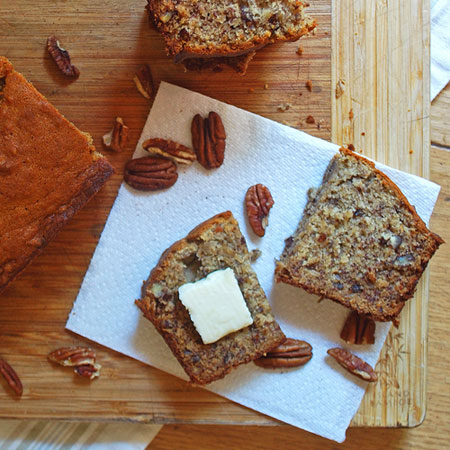 I have tried many different banana bread recipes through the years (that makes me sound old doesn't it?) and eventually I printed one out and started making notes and adjustments. Finally, I think I've got my perfect banana bread!
I can't imagine this bread without pecans (or walnuts) because they add wonderful flavor and texture. I use my food processor to finely chop these pecans so you don't notice large chunks of nuts in the bread. I think that makes it easier to slice and keeps this moist bread from falling apart, but hey… if you like large chunks who am I to stop you?
UPDATE: Check out a nicely done adaptation of this recipe by Peasant Foodie. Ashley turned these into tasty banana chocolate chip muffins using whole wheat flour!
Banana Pecan Bread
Incredibly moist and delicious!
Ingredients
½ cup butter, softened
½ cup brown sugar
½ cup granulated white sugar
2 eggs
2 teaspoon vanilla extract
3 bananas, very ripe and mashed
1½ cups flour
1 teaspoon baking soda
½ cup pecans, finely chopped
Instructions
Preheat oven to 350F.
Using spray or olive oil, grease a bread loaf pan.
In a medium sized bowl, combine the flour, baking soda, and pecans, stir well. Set aside.
In an electric mixer, mix the butter and sugar until smooth.
Add the eggs, vanilla, and bananas.
Add the flour mixture.
Pour into loaf pan, bake for 1 hour.