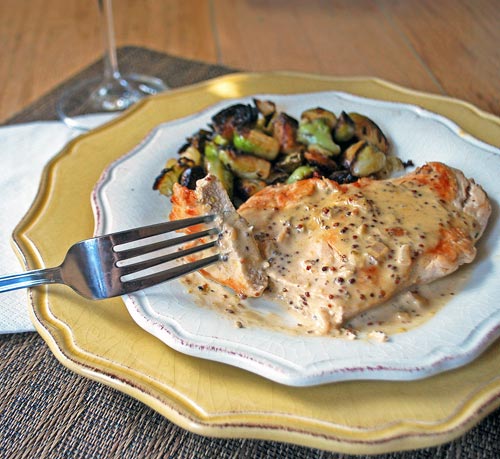 I borrowed Dorie Greenspan's cookbook "around my french kitchen" from the library a few months ago, have renewed it twice. The thought of giving it back makes me want to cry. I have hinted to my husband that this book is all I want for Christmas.


This particular entree I have made at least 5 times already. It is easy, quick, perfect meal for a weeknight, and above all DELICIOUS. The sauce is of the "lick-your-plate-clean" variety.
Tip: Don't let the heavy cream cook for too long or the sauce will get too thick.

adapted from Dorie Greenspan around my french table
Ingredients
4 boneless, skinless chicken breasts (pounded lightly to equal thickness)
1 tablespoon unsalted butter
1 tablespoon olive oil
1 medium shallot, minced
1 garlic clove, diced
⅓ cup dry white wine
½ cup heavy cream
2-3 tablespoons Dijon Mustard
1-2 teaspoons Worcestershire sauce
Instructions
Heat oil and butter in a large skillet over medium-high heat. Season the chicken with salt and pepper, cook for about 4 minutes on each side, flipping once. When both sides are lightly browned, remove from skillet and keep warm (I like to put them on a plate and let them sit in the microwave, you can also put them on a plate covered in foil, or keep them warming in the oven at 200F).
Lower heat to medium on the skillet and add the shallots and garlic, cook for about 2 minutes until soft. (I might add a bit more butter if the pan is dry).
Add the wine and deglaze your pan (stir and scrape up any bits with a wooden spoon).
Once the wine boils, add the heavy cream.
Once the heavy cream starts to bubble, add 2 tablespoons of mustard and the Worcestershire sauce.
Turn of heat and taste. Adjust the sauce with pepper, the other tablespoon of mustard or Worcestershire sauce to your liking. Spoon over the chicken and serve.