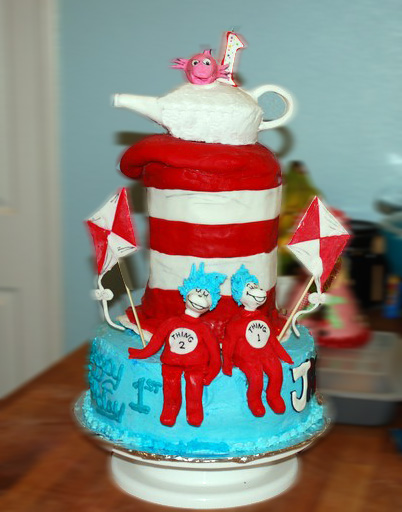 My son turned one year old last week, the time really does just fly by I can't believe he is a toddler now! He always enjoys being read to and some of his favorite books are the Dr. Seuss books. So for his birthday cake I went with a Cat in the Hat theme complete with the hat, Things 1 & 2 and their kites, and the fish in the teapot. Since the party was small, not a lot of cake was needed, so the hat is made of Styrofoam. My mom helped me with the hat since she knows how to cut and mold Styrofoam. Then we made the characters a few days early. So on the day of the party only the bottom cake and the teapot needed to be made. The party was held outside at the park on a very very windy day, and the cake held up perfectly fine… phew!

How to make this…
This cake is really all about molding the fondant, so there is only little instruction that can be given. To do it, you just need to jump in and do your best on the figures.
Make the Figures
Make a day ahead of time so they have time to dry. The figures include the fish, the handle and spout to the teapot, Thing 1 & 2, and the kites. Mold the figures from fondant. Use water and a small paintbrush to make colors stick together. Use flour to help you roll out fondant. I slowly inserted a skewer into my kites and let them dry that way.
Make the Hat
You can make the hat from real cake or from styrofoam depending on how much cake you need.
Arrangement
Use a wooden skewer to connect the cake to the hat, this helps it from sliding off. Also use a skewer to attach the teapot to the hat. Use toothpicks to attach the spout and handle to the teapot. Also use toothpicks to attach Thing 1 & 2 to the cake.
Finishing Touches
Use a black marker to draw lines on the kite and hat to make it look more like the illustrations in the book. Also draw on the eyes and mouth to Thing 1 & 2, as well as the names on their bellies. Use a toothpick to attach the head onto the body for Thing 1 & 2.