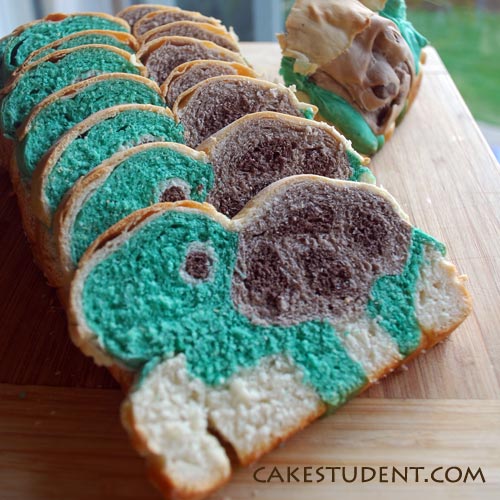 I still can't believe this actually worked! It really looks like a turtle. If you are new to my blog, I have been experimenting with bread art for awhile now, its pretty much hit or miss but I have been learning some techniques to help make it err more on the hit side.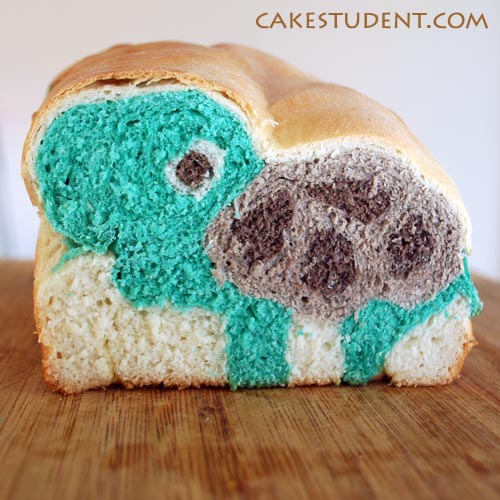 My inspiration for this came from the tortoise that my 3 year old son colored in his Easter coloring book. I watched him taking his time, focused on holding that crayon the right way and applying the color in all the right places and I couldn't stop my brain from analyzing how I would turn that pretty turtle into a loaf of bread. I know, I know… I have lost my mind. If you are a food blogger you probably know what I'm talking about… blogging is always on the brain.
Moving on… some of the steps for making this silly turtle.
Allocate your dough, color it. This is my least favorite part. It's why I choose subjects with few colors. I like cocoa because its more natural.


Form the turtle head. I wanted a nose shape so I made sure the eye was not in the middle. Lots of rolling and wrapping. The eye has got to be the thinnest possible.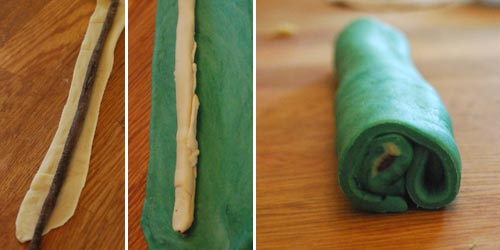 Fresh baked loaf. After so much work went into making this, you can imagine how it would feel to slice it. My little guy stands next to me and we are both beyond excited to see if the experiment worked or failed. Even if it didn't look anything like a turtle… a 3 year old is very easy to please. He was doubly pleased when he realized that the picture he colored for me was the inspiration.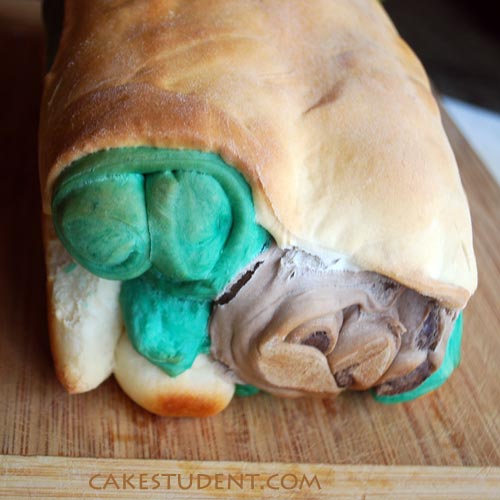 For complete steps for this turtle bread and many others, check out my new eBook!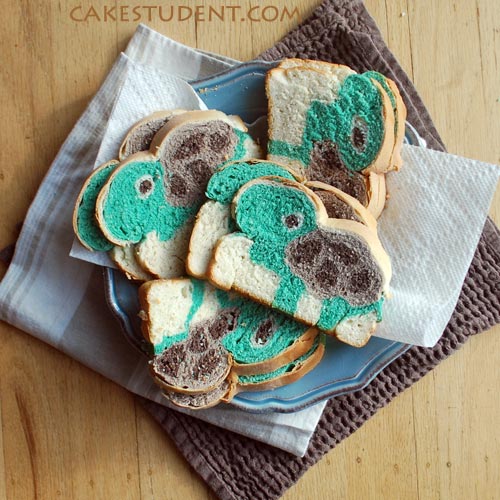 Recipe: Turtle Bread
Ingredients
1 cup warm water
2 tablespoons vegetable oil
2-1/4 teaspoons active dry yeast (1 packet)
1/3 cup white sugar
3/4 teaspoon salt
3 cups all-purpose flour
cocoa powder
green food coloring or matcha green tea powder
Instructions
Stir the warm water and yeast in the bread machine, wait 5 minutes for it to foam. Then add remaining ingredients (except the cocoa powder and green coloring). Set on dough setting. (If you don't have a bread machine, make this like any other bread.. knead the dough, let rise in warm area.)
Separate into 3 dough balls. For the brown colors, start with 1 dough ball, place in an electric mixer with the dough hook attachment. Add a little cocoa powder and mix… repeat until you the right light brown color and dough is even (you can knead by hand to help). Then divide that brown dough into 2 balls. Take one and make it even darker by adding more cocoa powder and knead by hand or use mixer again until color is even. Wipe clean the mixer. Add the next dough ball to the mixer and add green coloring, mix and knead until you get the desired green color.
Shape your bread! Use a rolling pin, pizza cutter or chopper if you have it. Place into a greased 9×5″ bread loaf pan. Cover with a towel. Let it rise for 30 minutes.
Bake at 350 for 30 minutes. Slice and Enjoy. Store in a ziploc bag to retain freshness or it will get hard over night.
Preparation time: 1 hour(s) 40 minute(s)
Cooking time: 30 minute(s)
Number of servings (yield): 12