First time I have ever made potato biscuits, and it won't be the last.

This is another kitchen-play contest entry, sponsored by the US Potato Board. The original recipe includes the pot pie that these biscuits sit on top of. But I had to make some changes because we don't normally eat beef. I used leftover rotisserie chicken, and unfortunately the vegies didn't cook quite right. So instead of sharing my oops recipe on the pot pie filling, I want to share the best part of this dish.. the potato biscuits.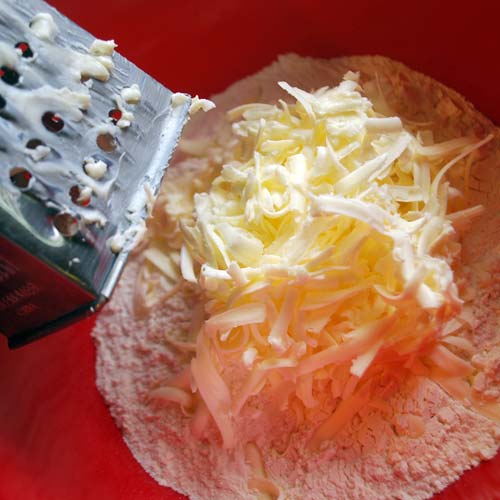 Grating the cold butter with a cheese grater makes it easier to cut into the flour mixture.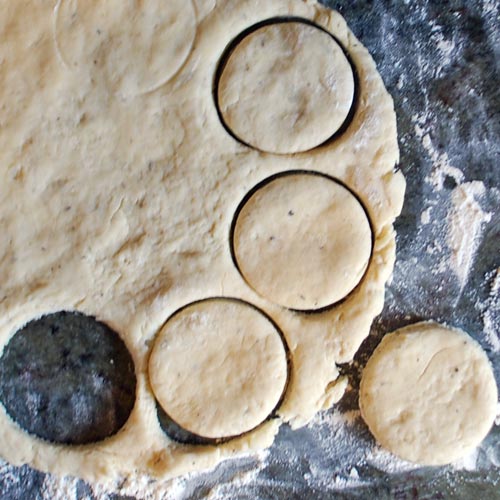 Cut out your biscuits with an upside down drinking glass.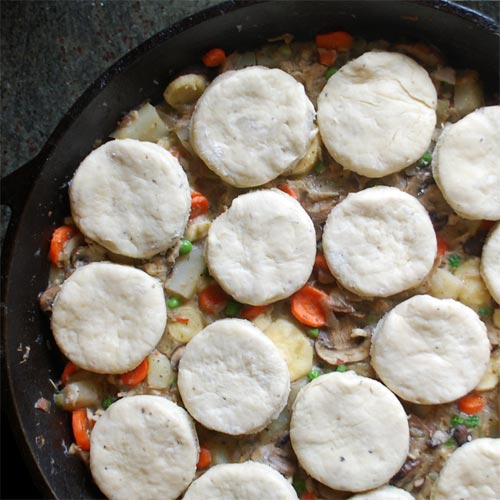 Lay them on top your stew/pot pie filling, then bake.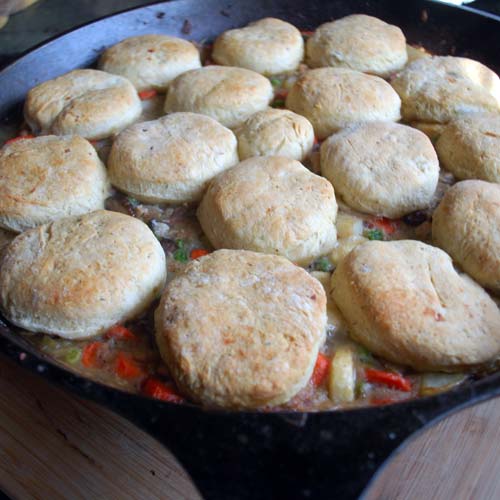 Recipe: Herb Potato Biscuits
Summary: adapted from Good Life Eats
Ingredients
1 large baked russet potato
2/3 cup buttermilk
1 cup all-purpose flour
3/4 cup cake flour
1 tsp sugar
2 1/2 tsp baking powder
1/2 tsp baking soda
1/2 tsp salt
8 TBSP (1 stick) very cold butter
2 tsp italian seasoning
Instructions
Wash and prick the potato. Microwave for 5-7 minutes until soft enough to mash. Let cool. Peel and mash in a mixing bowl.
You need a total of 1/2 cup of potato.
Combine the 1/2 cup potato with the buttermilk. Set aside.
In a medium bowl, combine the 2 flours, sugar, baking powder, baking soda, and salt.
Grate the butter into the flour mixture.
Add the italian seasoning.
Make a well in the center of the flour mixture, then add the buttermilk potato mixture. Stir until combined.
On a lightly floured surface, gently knead the dough ball. Flatten it out to about 1/2″ thickness.
Use an upside down drinking glass to cut out the biscuits.
Cook these on top of your pot pie or favorite stew recipe! (I think you should be able to bake these by themselves as well, I will update this post once I actually do that to confirm. The original recipe calls for baking at 400 for 35 minutes on top the pot pie. )
Preparation time: 20 minute(s)