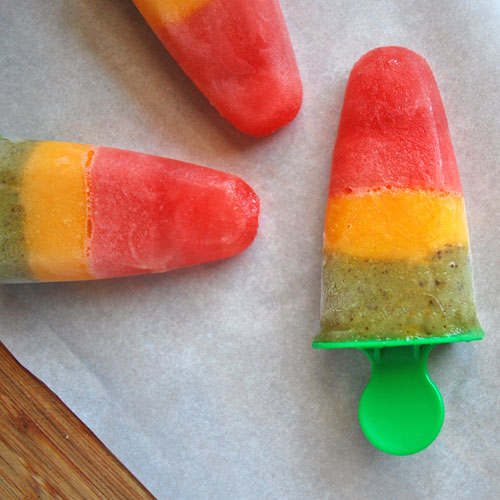 We go to the library at least once a week and lug home bag fulls of kiddie books. My youngest is now at the age where he just has to grab everything he can get his hands on. If I look away for just a second the kid will have an entire row of books lying in a heap on the floor. It might just be my imagination but I'm pretty sure the librarians know exactly who we are and probably throw a party once we leave. No, really they are very sweet which is part of the appeal, I like to be around nice people who genuinely like children. Believe it or not, I have had my run in with a few wicked old ladies at the grocery store. Back to the topic at hand… at the library my 1 year old started pulling books off the shelves, one of which was a mommy and me cookbook. After flipping through a few pages I found a cute traffic light popsicle and knew I must make this for my car and truck crazed boys. I was right, they loved them!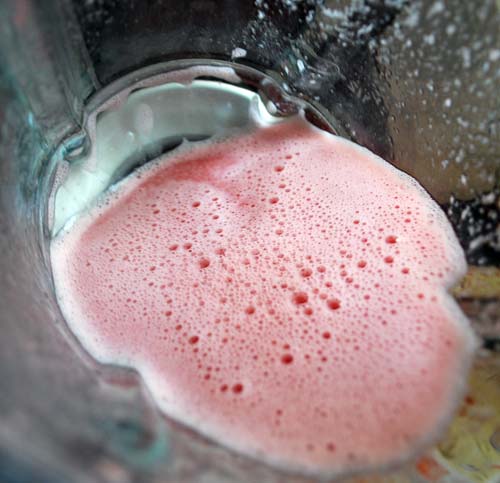 So the original recipe called for watermelon, peaches, and kiwi. But I substituted the peach layer with a mango that was getting a little too soft in my fruit bowl. I suppose you could also use pineapple or a combination of those fruits.
After blending the watermelon I thought it looked a little too pink, so I gave it a color boost with a few drops of Nature's Flavours natural red food dye. That really made them pop! I also decided to make a sugar syrup and added a touch to the watermelon and kiwi layer.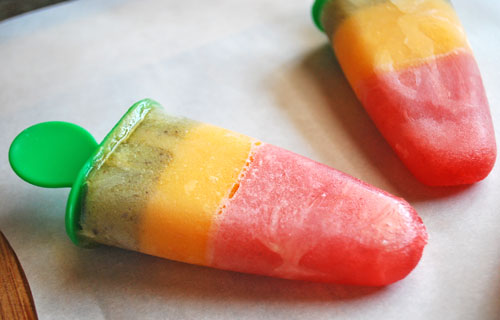 The thing about making popsicles is that you want to have a few mold sets, doesn't make sense to make only 6 at a time. This recipe made 12 popsicles, but ultimately it depends on the size of your molds.
Recipe: Traffic Light Popsicles
Ingredients
1 1/2 cup chopped watermelon (roughly, just eyeball it)
1 mango, peeled and chopped
4 kiwi, peeled and chopped
sugar syrup (optional. See recipe below.)
red food dye (optional. I use Nature's Flavours Natural Red)
Instructions
In a blender, blend the watermelon until liquified. Add a few tablespoons of water if necessary. Add a little sugar syrup if desired. Pour into popsicle molds, (about 1/3 level high) then place in the freezer for about an hour.
In the blender, blend the mango. Add few tablespoons of water and blend until desired consistency. Pour into your popsicle molds to make the second layer. Freeze while making the kiwi layer. (This layer is thick enough to handle being topped by the kiwi layer.)
In the blender, blend up your 4 kiwis, again add water and sugar syrup until desired consistency and sweetness. Top off your popsicle molds with this blended kiwi and place the popsicle sticks into them. Set in the freezer for several hours until frozen through.
Preparation time: 15 minute(s)
Freezing time: About 5 hour(s)
Number of servings (yield): 12
Recipe: Sugar Syrup
Ingredients
1/2 cup granulated sugar
1/3 cup water
Instructions
Heat the sugar and water in a small saucepan over medium high heat. Bring to a gentle simmer and stir constantly until the sugar has dissolved. This will take about 3-4 minutes. Remove from heat and let cool.
Preparation time: 1 minute(s)
Cooking time: 4 minute(s)