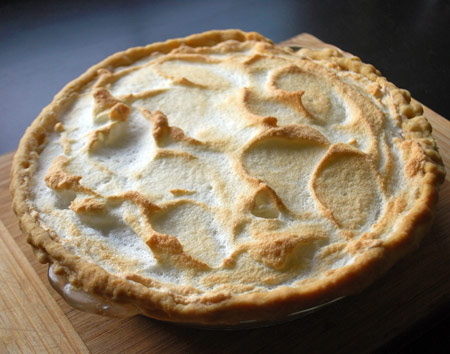 Not a fan of pumpkin pie? This is a great alternative! Hidden under all that golden fluffy meringue is a creamy smooth sweet potato pie. The combination is really amazing and a perfect dessert for your holiday feast.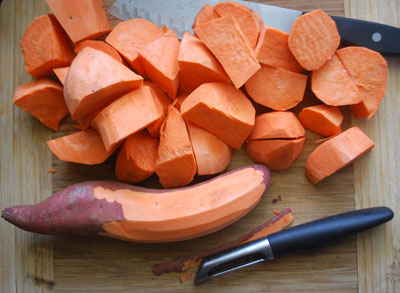 You only need 2 small sweet potatoes for this pie, but I got a little carried away. (These are delicious with butter and a little maple syrup and the kiddos love it.)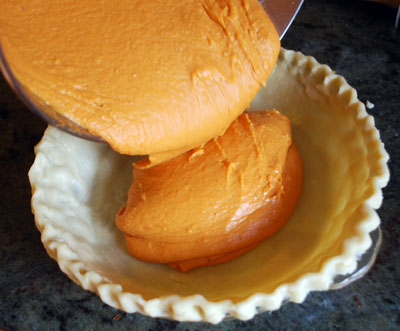 Mix with some milk, sugar and spice, and ooooh theres the good stuff.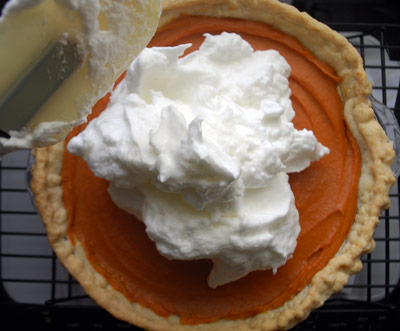 Can you believe that only 3 egg whites made all that fluff! Marshmallow topping would work well too (and for most people would help the pie be instantly recognizable) but the meringue lends a bit of mystery don't you think?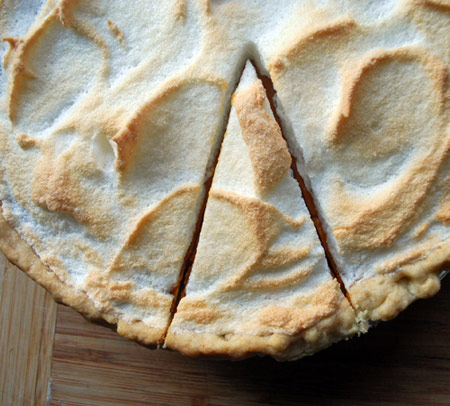 Did I mention this recipe is adapted from Paula Deen? I adapted it with a few adjustments: a little nutmeg here, some brown sugar there… what a delicious early Thanksgiving treat this was for my family.
Wishing everyone a happy and safe Thanksgiving holiday!
Recipe: Sweet Potato Pie
Summary: adapted from Paula Deen
Ingredients
2 cups sweet potatoes, peeled & boiled (about 2 small)
3/4 cup white sugar, divided (part for filling and part for topping)
1/2 cup brown sugar
1/2 stick butter (1/4 cup), melted
2 eggs
1 teaspoon vanilla extract or 1 to 2 tablespoons bourbon
1/4 teaspoon salt
1/4 teaspoon ground cinnamon
1/4 teaspoon ground ginger
1/4 teaspoon ground nutmeg
1 cup milk
9-inch unbaked pie crust
3 egg whites
Instructions
Preheat oven to 350 F
Peel and quarter your potatoes. Put the potatoes in a pot and cover with water. Boil for 25-30 minutes or until tender when pierced with a fork. Drain with a colander and let cool.
To make the filling, you can use an electric mixer, or a hand held mixer. In a large mixing bowl, combine the potatoes, 1/2 cup of the white sugar, brown sugar, butter, eggs, vanilla, salt, and spices. When smooth, slowly mix in the milk. Pour the filling into the pie crust.
Bake for 35 to 45 minutes, or when a toothpick inserted is pulled out clean. Cool on a rack to room temperature.
When the pie is cool, start to make the meringue topping. Use an electric mixer to whip the egg whites until soft peaks form. Slowly mix in the remaining 1/4 cup sugar and mix until the meringue is stiff and has a glossy shine.
Spoon the meringue on the top of your pie, make a few fun wavy peaks, and make sure the meringue completely covers the sweet potato filling.
Sprinkle with a pinch of sugar.
Bake for an additional 10-15 minutes or until lightly golden.
Cool on a rack to room temperature before serving.
Preparation time: 24 minute(s)
Cooking time: 1 hour 20 minute(s)
Number of servings (yield): 8