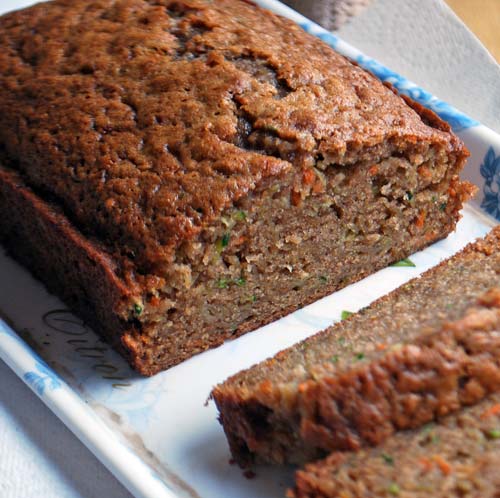 It wasn't easy, but I did it.
I found… the bread that wanted to be a cake.

Yes! The perfect sweet treat without the guilt. Where did this magical recipe come from, you ask?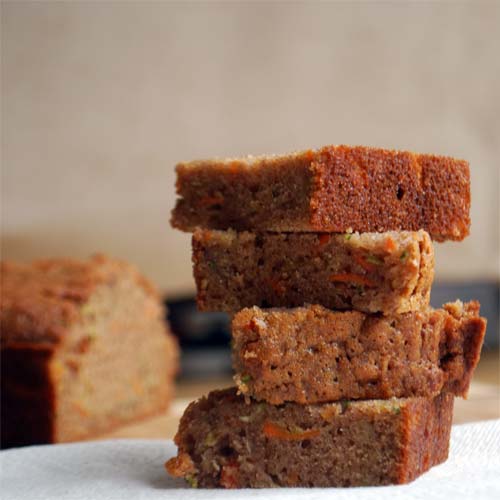 Cooking Light magazine, a few years ago and I have made this many times since. I have substituted heavy cream for the buttermilk, vegetable oil for the canola, it always bakes beautifully.

Grated apple, zucchini, and carrot provide some nutritional value (thanks fellas).
Even the name "Garden Harvest" makes you feel like you are doing your body good. The recipe claims each slice (9 slices total) is 223 calories.
Is that good? I think so. I mean, I really couldn't tell you. Who's counting calories anyways? Surely not the gal who ate half her son's Halloween candy while he slept.
This cake is moist and smooth but has a lightness to it and is sure to satisfy any sweet tooth (especially the 28 in my mouth).
Makes a perfect dessert for school events when the school is picky on overly sugary treats. Bake them in muffin tins and they are sweet enough to stand alone without frosting.
Did I mention that my kids LOVE it? Dessert tonight, breakfast tomorrow.
Oh, how I yearn for breakfast.
Recipe: Garden Harvest Cake Bread
Summary: adapted from Cooking Light April 2009
Ingredients
1 cup all-purpose flour
3/4 cup sugar
2 teaspoons ground cinnamon
1 teaspoon baking soda
1/4 teaspoon salt
1/2 cup Granny Smith apple, grated & peeled
1/2 cup carrot, grated
1/2 cup zucchini, grated
1/4 cup chopped walnuts, toasted (optional)
1/4 cup vegetable oil
1/4 cup nonfat buttermilk
2 large eggs
Instructions
Preheat oven to 350 F.
In a large bowl, combine flour, sugar, cinnamon, baking soda, and salt.
Grate your apple, carrot, and zucchini. Stir them into the flour mixture until coated. Add walnuts if using.
In a small bowl, whisk together the oil, eggs, and buttermilk. Stir into the large bowl to finish your batter.
Grease a bread loaf pan or muffin tins. Fill with your batter.
Bake for:
45-50 minutes (bread loaf)
25-30 minutes (muffins)
Toothpick test if its done: when inserted should come out clean.
Preparation time: 10 minute(s)
Cooking time: 50 minute(s)
Number of servings (yield): 8