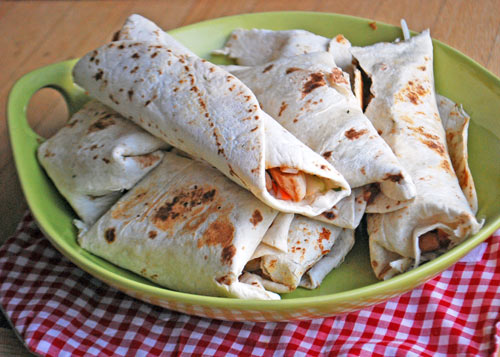 Perfect game day finger food! Probably my most favorite and used Rachel Ray recipe from her 30 Minute Meals book. I have made these several times but still have not managed to make it under 30 minutes! I'd say the veggie preparation and wrap assembly takes up the bulk of the time, turning it into more of a 45 minute meal. Big on flavor and very fresh, these wraps are popular for both guys, gals, and kids. Eating with your hands also makes for easy clean up after the party too.

The wraps are composed of 3 elements: (1) spicy peanut sauce. (2) Fresh veggie salad. (3) Chicken strips hot off the skillet.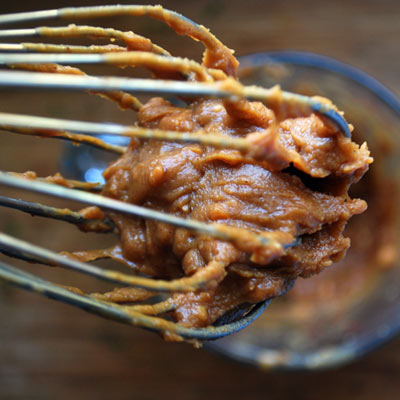 This addictive peanut sauce has a cayenne pepper kick which gives it heat and flavor. Don't skip on it even if you are a wuss like me! Just add a little, taste the sauce, add more to your liking.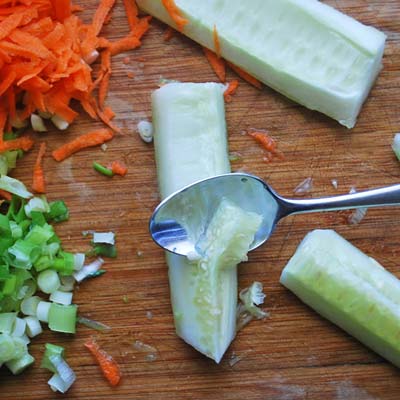 Remove the watery cucumber pulp with a spoon so the wrap doesn't get soggy.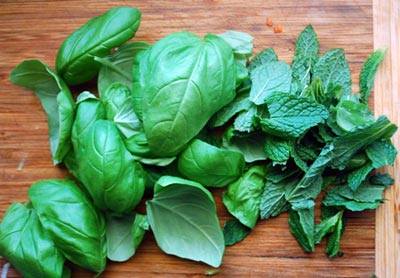 Fresh basil and mint are essential to this recipe, I love the combination.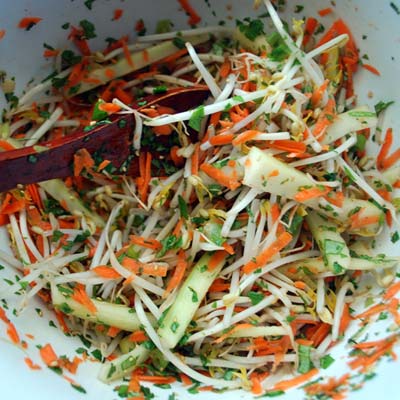 Beautiful mix of crunchy, healthy vegetable salad to fill the wraps.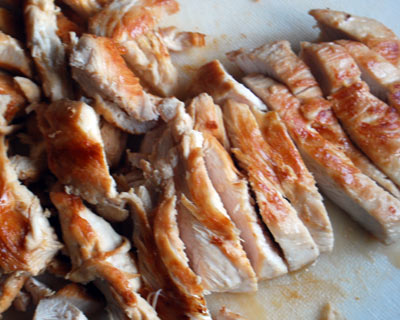 Hot off the skillet, add chopped grilled chicken to your wrap.
Recipe: Spicy Thai Chicken Wraps
Summary: adapted from Rachel Ray 30 Minute Meals
Ingredients
For the Chicken:
3 chicken breasts
1 tablespoons soy sauce
1 tablespoons vegetable oil
For the Peanut Sauce:
1/4 cup chunky peanut butter (room temp)
2 tablespoons soy sauce
1 tablespoon rice wine vinegar (or white vinegar)
1/4 teaspoon cayenne pepper
2 tablespoons vegetable oil
For the Salad:
2 cups brean sprouts
1 cup shredded carrots
1/2 cucumber, peeled, pulp removed and sliced thinly
3 green onions, chopped
12 basil leaves, chopped
4 sprigs mint, chopped
1 tablespoon sesame seeds
2 teaspoons sugar
2 tablespoons rice wine vinegar (or white vinegar)
12-inch flour tortilla wraps (about 10-12)
Instructions
Chicken:
Heat skillet over high heat. Brush the chicken with soy sauce and oil, grill on skillet for about 6 minutes on each side. Remove from heat when no longer pink inside, set aside. Once cool enough to handle, chop up or slice your chicken into strips.
Salad:
Toss all salad ingredients in a large bowl. Set aside.
Sauce:
If the peanut butter is too thick, heat it in the microwave for a few seconds to soften. Whisk all sauce ingredients in a bowl.
Assembly:
Heat a tortilla on a hot skillet for about 15 seconds on each side. Carefully remove. Spread a generous amount of peanut sauce onto the tortilla, add some salad and top with some chicken.
Wrap & roll it up.
Repeat until all ingredients have been used up.
Preparation time: 25 minute(s)
Cooking time: 20 minute(s)
Number of servings (yield): 12