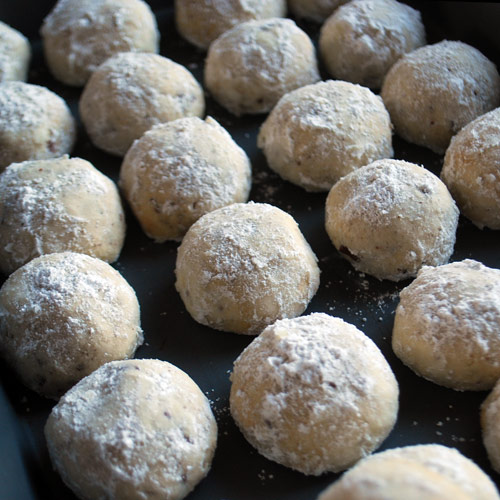 My next featured "Old School" cookie recipe is the snowball (also known as Mexican Wedding) cookie. Who doesn't recognize these? They not only look like snowballs but the texture makes it seem as though they melt in your mouth.

To be perfectly honest, when I was a kid I didn't care for them, they weren't made of chocolate (gasp!) and they made me thirsty. But as an adult I like them, I like them a lot. My husband says they are his favorite Christmas cookie. The have a nutty flavor and are very light and airy. Make sure you use butter in these and if you have the time, refrigerate the dough for about 10-15 minutes before rolling them into balls. I like to think that extra step keeps them nice and round.
Snowball Cookies
Also called "Mexican Wedding Cookies". I like to refrigerate my dough for about 15 minutes before rolling them into balls, it helps them keep their shape.
Ingredients
1 cup (2 sticks) butter, softened
½ cup powdered sugar
1 teaspoon vanilla
2 cups flour
1 cup pulverized pecans (crush in a sealed bag using a rolling pin)
⅓ cup powdered sugar, sifted (for rolling)
Instructions
Preheat oven to 350 degrees.
In an electric mixer, beat the butter and ½ cup powdered sugar.
On low speed, mix in the vanilla, flour, and pecans.
Roll into small balls, about a heaping tablespoon worth, place on ungreased baking sheets.
Bake for 15 minutes, or until the bottom of the cookies are slightly browned.
Cool for 5 minutes, then roll them in the remaining powdered sugar.