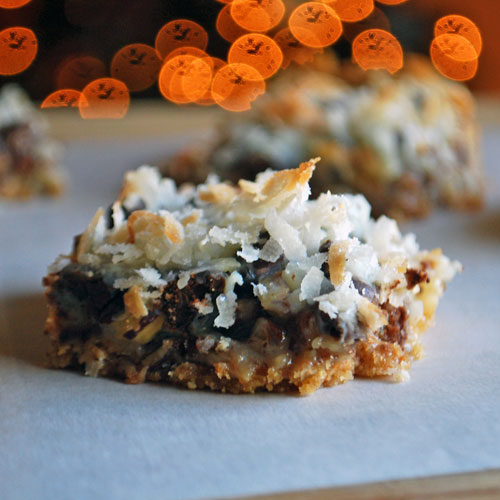 When I was growing up, my sister and brother and I watched as once a year our mom (a professional cake baker) would go into an all day baking frenzy.


There were stacks of cookie trays scattered on the tables and counters and the house would smell incredible. Mom was usually covered in flour and you did not want to mess with her when she was in cookie mode.
She baked for family, friends and neighbors. Each plate had a beautiful heaping variety of cookies, and us kids had the honor of delivering them. We delivered to one neighbor at a time, after each delivery we would run back home to get another platter for the next neighbor. I remember arguing with my siblings over who got to carry each plate. We were so excited and happy to surprise our neighbors, their smiling thank you's always left us with a wonderful feeling.
After asking mom for a little help, I now have 3 recipes to share with you this season. First up… Hello Dollie bars. A simple layered cookie that is gooey and rich and easy to make. These were my all time favorite and the ones I would try to sneak when mom wasn't looking!

Hello Dollie Bars
Ingredients
2 cups crushed graham crackers
10 tablespoons butter, melted
1 cup chopped pecans
1 cup semi-sweet chocolate chips
1 (14oz) can sweetened condensed milk
1½ cup shredded coconut
Instructions
Preheat oven to 350 degrees.
In a 9"x13" pan, mix the graham crackers and butter, press down to form the first layer.
Sprinkle on the pecans.
Sprinkle on the chocolate chips.
Pour the condensed milk evenly over the chips.
Sprinkle on the coconut.
Bake for 20 minutes or until golden.
Let cool completely! Then cut into bars.