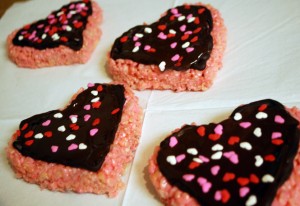 We made early Valentine's Day treats this year because I had a yearning to do a fun baking project with my son. I haven't had a rice crispie treat in years… since I was a kid myself, and I forgot how yummy they are! This is a great project to do with a toddler, my son helped me press out the crispies into the pan, use the cookie cutter, add sprinkles, and of course lick the chocolate spoon. Really simple and easy treat to make and share with friends!

Ingredients
6 cups Rice Crispies Cereal
4 cups mini marshmallows, or a bag of the large.
3 TBSP butter
Optional Pink food coloring
Bakers Chocolate Semi-sweet Chocolate squares.
Sprinkles of choice
Tools
Heart shaped cookie cutter.
Ziploc baggie for piping the chocolate shape onto the heart.
Instructions
Make Crispie Treats
Melt butter in saucepan. Add Marshmallows to the pan and stir until melted. Add just a few drops of food coloring (if desired). Mix to get a nice color, mine turned a bright bubble gum color. (The color will darken a bit after the treats cool.) Stir in the Crispies cereal.
Quickly throw batch into a greased 9″x13″ pan and push down to make an even layer. Use heart shape cookie cutter to pull out individual cookies.
Chocolate Topping
Melt 1 square of bakers chocolate per box directions (about 1
minute of effort in the microwave. Spoon into a ziploc baggie. Make a very small clip off the corner of the baggie.

Pipe a heart shape outline onto each crispie cookie. (This will get filled in later). Then put in fridge for about 10 min, or until the chocolate hardens.

Melt about 3 more squares of chocolate in the microwave. Using just a spoon, fill in each of the heart outlines on the treats. Immediately add sprinkles. You can let them harden again in the fridge.
Tip: Rub butter on your hands to help push down the crispie treats into the pan and avoid sticking.