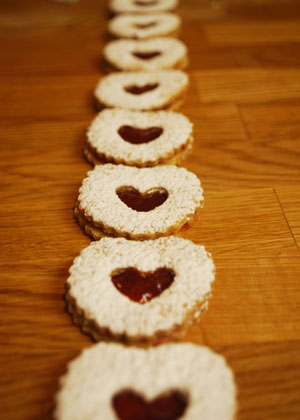 If there ever was a perfectly obvious cookie choice made for Valentines Day, its got to be this one. Doesn't it just scream Valentines Day?

After quite a bit of internet surfing for a Linzer cookie recipe, I couldn't find one that sounded easy and for which I had all the ingredients. So I took a stab at making my own. They came out amazing! The dough was easy to work with, and the most important thing… they tasted delicious, light and buttery with a nice almond lemon flavor.
Making the dough was the easy part. I let it chill in the fridge while I did our usual bedtime routine with my son. Then worked for 2 hours on baking and decorating all of them. Exhausting but worth it! Here is how to make them…


Special Tools.
Heart Shaped Linzer Cookie Cutters.
Recipe making over 3 dozen small cookies.
In a mixer, beat the following until very fluffy:
3/4 cup granulated sugar
1/2 cup butter (softened)
Add the following to the mixer until well blended:
1/2 tsp vanilla extract
1/2 tsp almond extract
1 egg
Mix following in a separate bowl with a whisk, then slowly add to the mixer, on low speed, until a nice soft dough forms.
2 cups all-purpose flour
1/2 tsp baking soda
1/4 tsp salt
1/4 tsp ground cinnamon
1 tsp lemon zest
Wrap up the dough in plastic wrap, place in fridge to chill for about an hour.
For the Topping
Roughly 1/2 cup of Raspberry Jam (I used Trader Joes Raspberry Preserves)
Roughly 1/2 cup Powdered Sugar
Bake & Decorate
Preheat oven to 375.
Cutouts
Cut the dough in half. Roll out the first half to about 1/8″ thickness. Using the heart shaped cookie cutters, cut out as many cookie bottoms (solid) as you can. Do the same with the other half of dough, but this time, cut out the cookie tops (have the small heart shaped cutout centers). This is where a Linzer cookie cutter comes in handy!
Bake
Line the bottom of a baking sheet with parchment paper. Bake the cookies for about 7 to 9 minutes, until golden. Let them cook on a wire cookie rack.
Decorate
Spread a small amount of jam onto the cookie bottoms, then press on the cookie tops. The jam acts as sort of like a glue, so it need only be a very thin layer.
Next, Using a sieve or sifter, sift the powdered sugar on top of the entire cookie.
Last, you want to fill in the center with more jam so it looks pretty. This can be done carefully with a spoon, or use a ziploc baggie (spoon in some jam then make a very small clip off the corner of the baggie) and use like a frosting bag to help give you more control. All done!