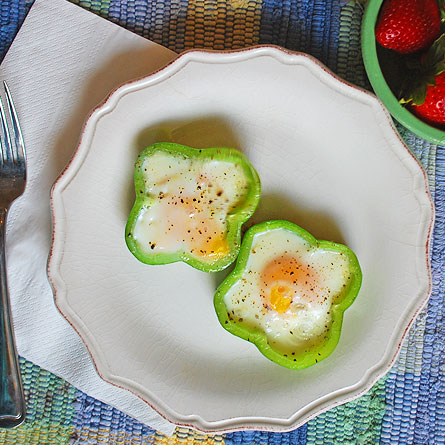 I've seen these shamrock eggs on pinterest and thought they would be fun for my kids on St. Patty's Day morning. I gave them a test run and they were easy enough to make, the kids mainly picked the eggs out of the pepper, but they liked the overall idea.

My green peppers were kind of on the small side but I like that they were shapely so they made a curvy shamrock when sliced. I decided to cut them thick so the walls would contain the entire egg without an overflow. If you have a larger pepper then you can slice them a bit thinner. Make sure to cook them all the way, I used a large pot lid to cover them at the end because it was taking quite a while to cook.
Happy St. Patrick's Day!

Shamrock Eggs
Ingredients
1 green bell pepper, sliced thickly horizontally
2 to 4 eggs
Instructions
Melt a little butter in a skillet over medium heat.
Lay down the pepper slices, crack an egg into each one. Cook until egg whites are white and firm.